Announcing the 2022 Dance Educators Award recipient
The Dance Educators Award recipient is announced each year as part of the annual conference. Gathering in person for the first time in 3 years in Limerick, Ireland, the Dance Educators' Committee were pleased to announce the recipient of the 2022 award, Sonia Rafferty.
Sonia is a Dance Artist, Teacher, Dance Science/Safe Practice Consultant with over 30 years' experience. Having trained at the Laban Centre, Sonia has an extensive professional dance career and continues to teach and deliver professional classes for dance companies and at dance institutions.
Sonia was one of the first cohort to complete the MSc Dance Science at Trinity Laban and since has intertwined her expertise in dance technique with her knowledge of dance medicine and science and safe dance practice. As well as developing the Healthy Dance Certificates for dance practitioners, Sonia is a co-founder of Safe in Dance International (SiDI) and the co-author of the book Safe Dance Practice: An applied dance science perspective. Her work as a dance practitioner, dance scientist and programme leader has impacted the lives of many dancers and dance teachers through her approach to combining dance science, pedagogy and understanding conditioning and fitness needs of dancers.  
The award was presented by 2021 DEA winner, Edel Quin; "It was such an honour to present this award to the wonderful Sonia Rafferty, who truly embodies the essence of this award. She has spent more than three decades integrating dance science principles within her teaching. Her passion and dedication is witnessed equally in the studio, in the lecture/seminar room, in her publications, and as co-founder of Safe in Dance International (SiDI). Sonia has been - and continues to be - an inspiration to so many dancers, dance educators and dance science graduates."
Sonia shares her knowledge and practice as Programme Leader at Trinity Laban Conservatoire of Music and Dance and as a safe dance practice consultant.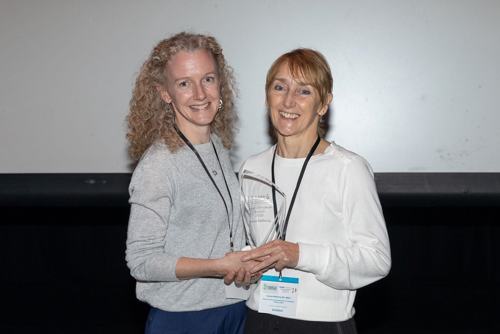 Photo Credit: Matthew Tomkinson