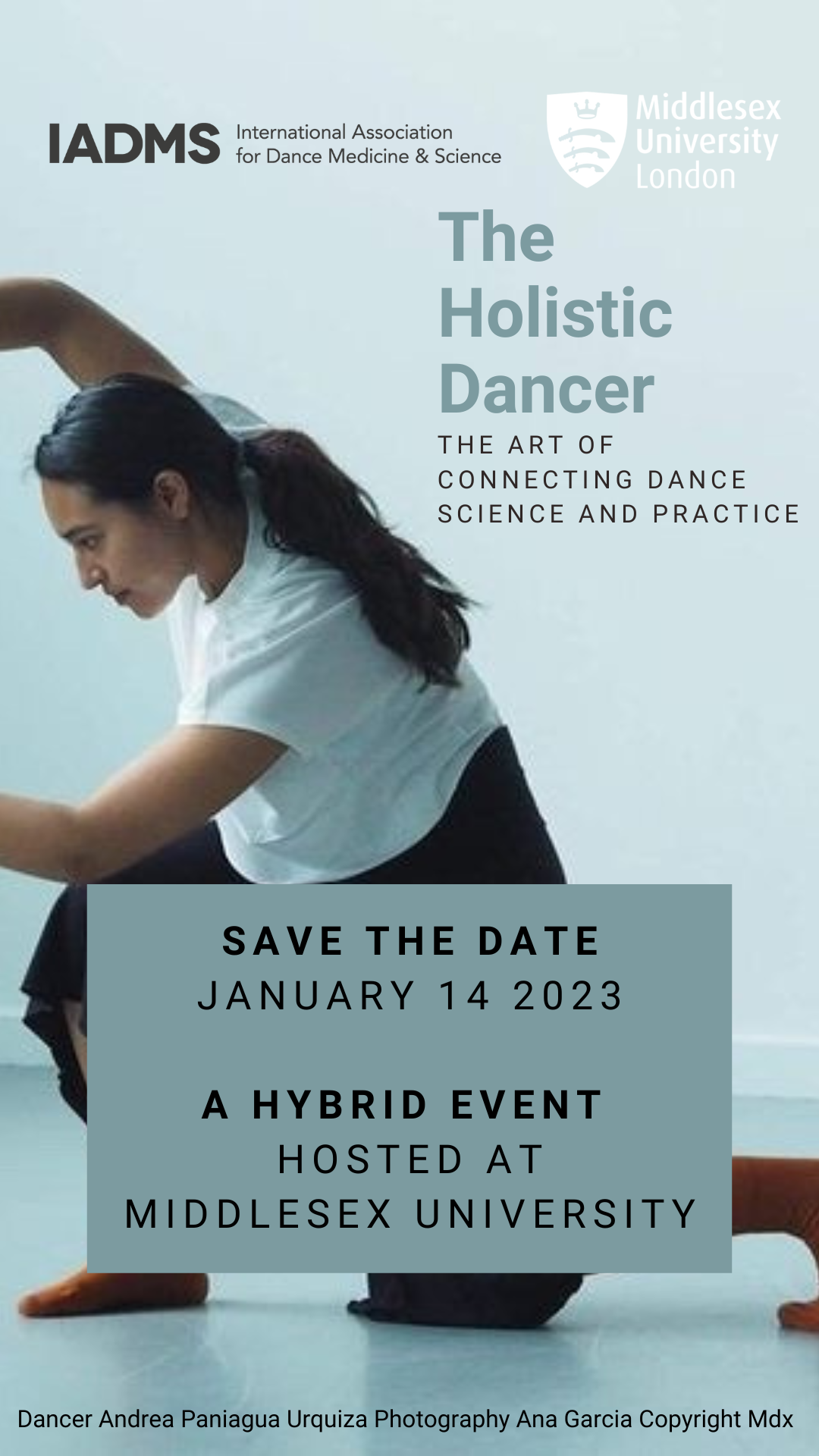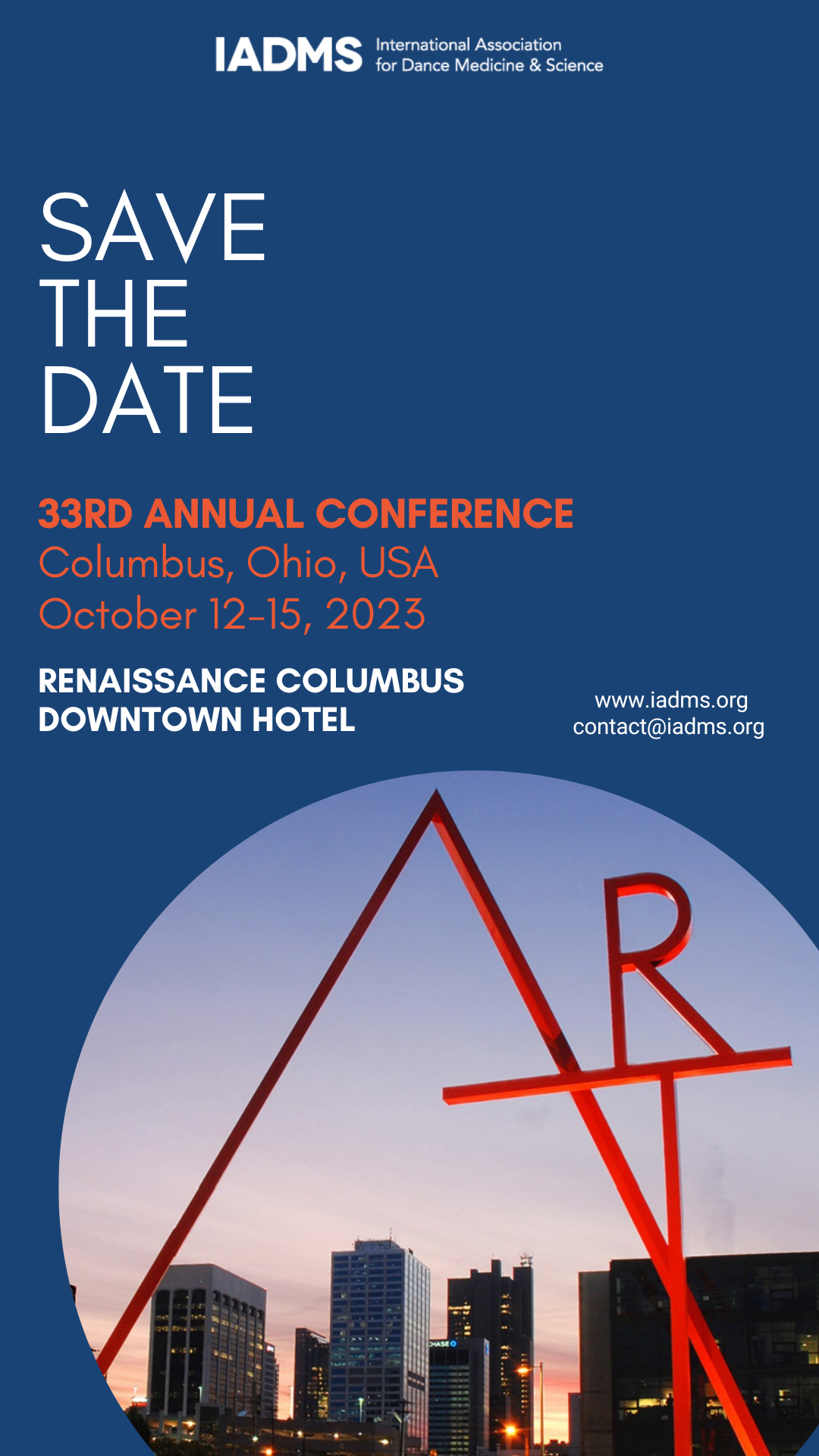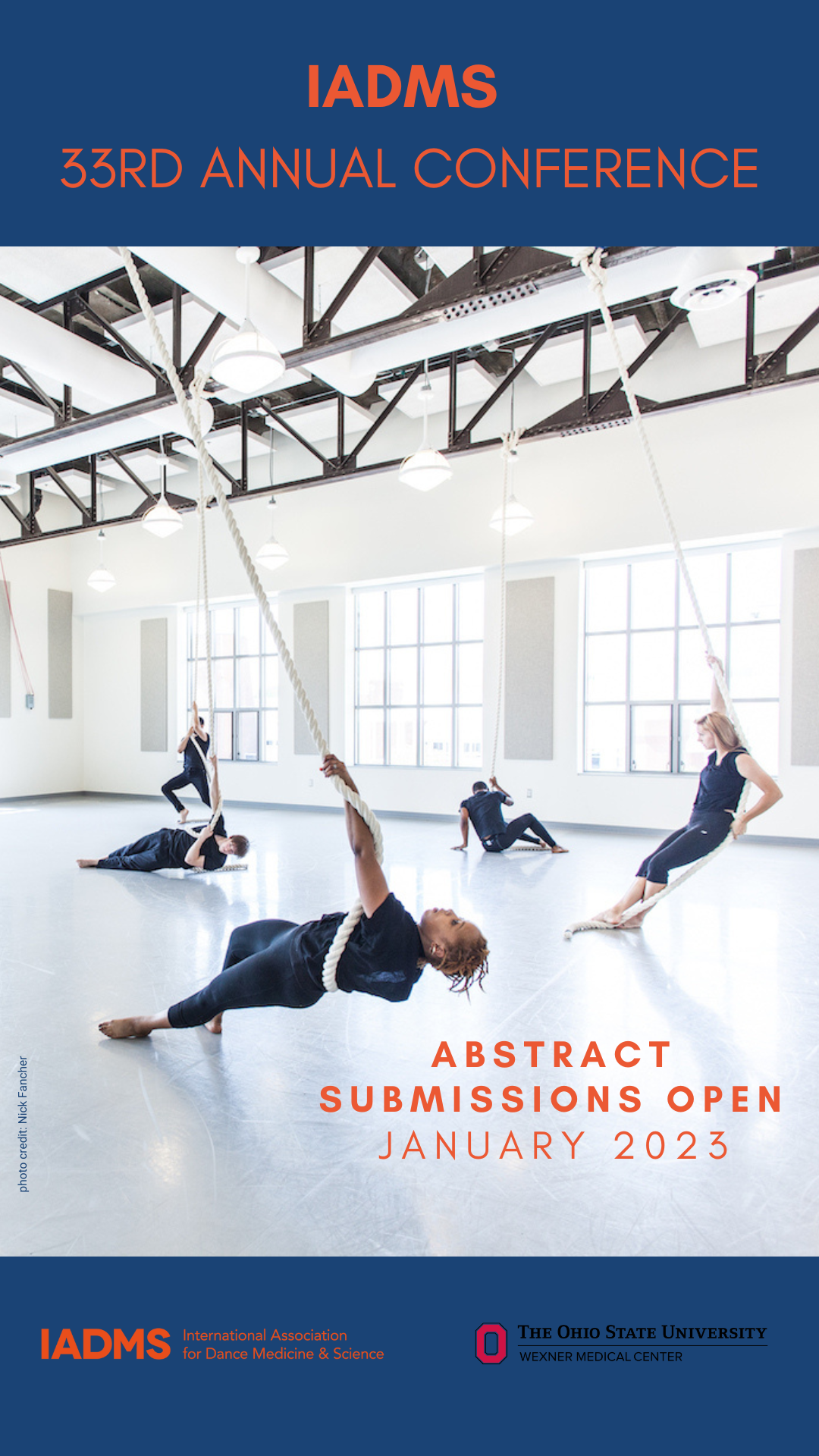 DECEMBER  |   2022

December 3, 2022   |   

IADMS EVENT
Student Networking Session
ZOOM 
7:00 PM EST
FREE - IADMS STUDENT MEMBERS
Join the IADMS Student Committee for the third and final of the 2022 Student Networking Sessions on December 3. Topic for discussion: TBA.
All three of the Student Networking Sessions in 2022 are open to active IADMS Student Members. A link to register will be sent to all IADMS Student Members by the Student Committee Chairs in the week prior to the event. Questions? Email: students@iadms.org. 
JANUARY  |   2023

January 11, 2023   |   

POINTE SAFE CERTIFICATION COURSE
Pointe Safe Certification Course
10% off for IADMS Members!
Pointe Safe is now offering IADMS members a discount for its upcoming Pointe Safe Certification course, beginning January 11, 2023. Registration is limited to ballet teachers. There are two class times available (9am and 3pm pacific time) to accommodate ballet teachers in different time zones. All courses will be held in English. This course structure works well for teachers who are actively teaching pre-pointe or early-pointe students. 
Pointe Safe is a convenient and rigorous 8-week live-online course meeting on Wednesdays at 9am or 3pm, PST. Teachers should allow one hour and 15 minutes for each of the online sessions. The material is dense but absorbable, and we strongly recommend re-watching the recording of the class in addition to attending live. Each week includes active assignments for the ballet class and teachers will be expected to post videos and thoughts related to their work in our teacher's forum for discussion. Week 8 is dedicated to one-on-one exit interviews with Kendall Alway, DPT, founder of Pointe Safe, and the instructor during the course. 
Course alumni will have lifelong access to the alumni forum, use of the Pointe Safe marketing materials, and be listed on our website. 
IADMS members will receive a 10% discount bringing the course to $549 (full price is $610). This discount will be applicable for this January's offering of Pointe Safe only. To receive this rate please note you are an IADMS member upon registration and provide the email you use for your IADMS membership for verification purposes.
To learn more and register now visit the Pointe Safe website: www.pointesafe.com and/or Instagram account @pointesafe
If you need any further information or assistance email info@pointesafe.com.
January 14, 2023   |   

IADMS EVENT
LONDON, UK
Co-Hosted by Middlesex University 
Registration Opens November
Join us for the IADMS Regional Meeting, The Holistic Dancer: The Art of Connecting Dance Science and Practice, co-hosted with Middlesex University. During this one-day event, we will explore the practices and principles that underpin dance science research in an accessible and applicable way for the dance teacher, dance artist, and choreographer. By engaging participants with the sciences in this way, we aim to guide the discourse on how best to adapt dance practice in order to enhance the performance of future professional dancers and choreographers. Join us for a day of integrated learning, with lectures focused on translating the academic/technical language used in peer-reviewed scientific and clinical research articles, and movement/interactive sessions that will incorporate the sciences into applied practice for dancers of all levels and ages. 
January 14, 2023   |   

IN PERSON EVENT
Saturday, January 14th, 2023 11am-5pm PST
Facilitated by Valerie Chafograck and Sarah Crowell
This is an IN PERSON Conscious Dance and Rest workshop designed for all self-identified Black, Indigenous, and People of Color.
First month of the year, first breath, first step... What am I leaving? What am I about to enter?
As we encounter the various external ebbs and flows around us, a call to pause, rest, and listen invites us to re-enter the present moment. Using our body as a vehicle of awareness, we can consciously make choices, respond, and begin again.
We move solo from our vertical, inward listening, to then further extend our dance horizontally including others in the room.
A community ritual will create a space to set intentions, express, witness one another and offer our souls in motion. No experience is necessary to embark on this journey... just the willingness to be curious.
OCTOBER   |   2023

October 12 - 15   | 

 IADMS EVENT
IADMS 33rd Annual Conference
COLUMBUS, OHIO
The IADMS 33rd Annual Conference will be held at the Renaissance Columbus Downtown Hotel, 50 North Third Street, Columbus, Ohio, USA. This 4-day event will include the most up-to-date clinical and scientific research on dance medicine and science. Sign up for our mailing list to ensure you receive up-to-date information as it is released. 
Mark Your Calendars! Call for Abstracts Opens January 15, 2023 / Registration Opens June 15, 2023!
Questions? Email conferences@iadms.org 
VIRTUAL / ON-DEMAND

ONLINE COURSES 
(I)For Students (II)For Professionals (III)For Working Parents (coming soon)
Presented by Imogen Aujla, Dance in Mind offers online psychology courses for dance professionals and students to help deal with stress, create a better work-life balance, and cultivate optimism. Drawing on CBT and coaching techniques, the courses are a mix of webinar-style video tutorials and worksheets to help you put what you're learning into practice. Create positive change and enhance your wellbeing in just a few weeks - each course works brilliantly as a stand-alone but were designed to be taken together, and as a special introductory offer, you can buy all 3 courses for just £50.
ONLINE COURSES 
Presented by Nicky Keay BA, MA(Cantab), MB BChir, MRCP, these online courses provide dancers, teachers, and parents with the latest professional-level training and medical performance strategies on how young female dancers can reach their full potential in dance. The aim is for every dancer to achieve her personal best in a healthy and sustainable fashion. The online course also has a quiz and links to further resources.
Two courses are available:
Training as a High Performing Female Dancer - Team offers the course for a group of dancers, teachers or parents. US$199
Training as a High Performing Female Dancer offers the course for an individual dancer. US$59
These courses are offered through Sports Ready Academy and are endorsed by the British Association of Sports and Exercise Medicine.