Strategic Planning 2021

Want to be involved in the Strategic Planning for IADMS? We are inviting YOU!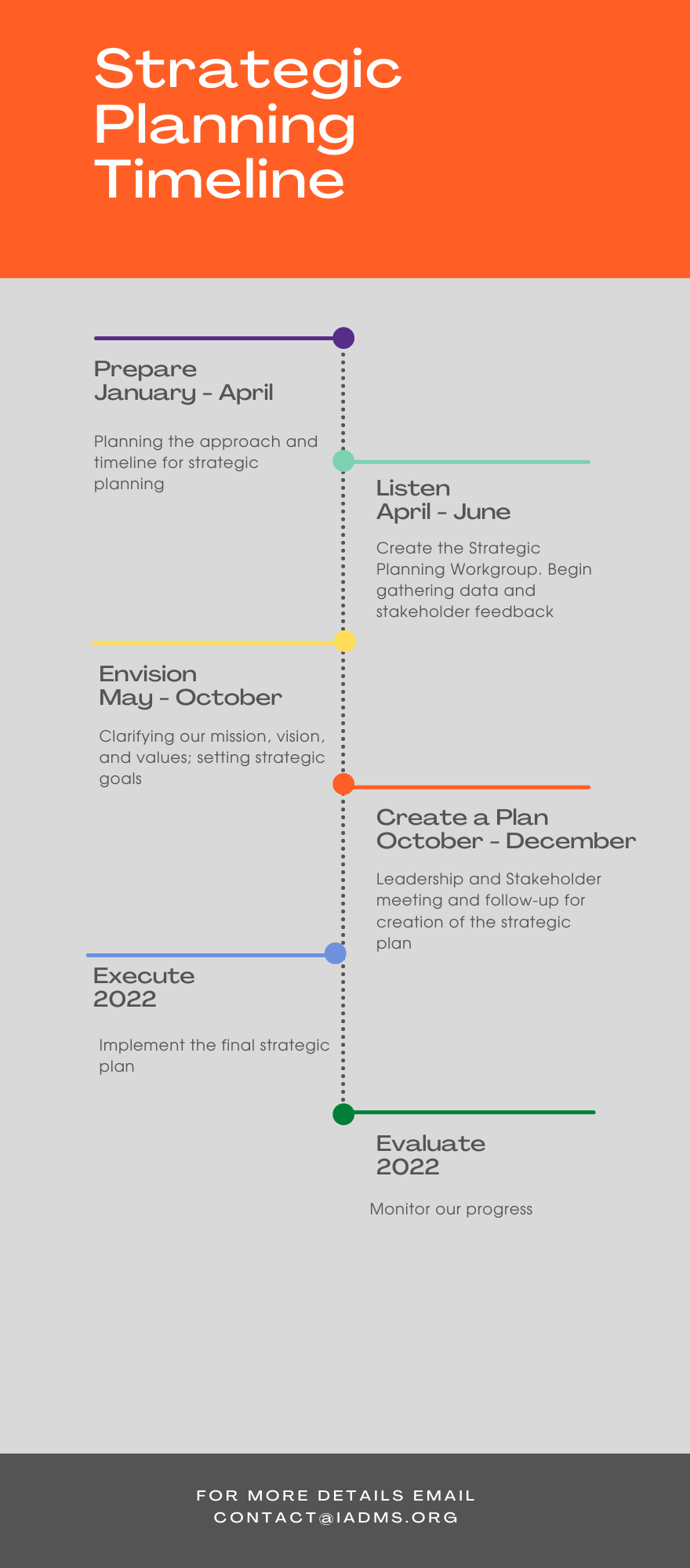 Strategic Planning 2021 
IADMS has embarked on its next cycle of strategic planning and we want to hear from YOU! Participate now in our confidential and anonymous Strategic Planning Survey, and join us at upcoming Town Halls to offer feedback regarding potential updates to our mission and vision and discuss our organization's future goals.
Mark Your Calendars & Register for our Strategic Planning Town Halls!
August 21 @ 8am EDT
*Registration is now open for the 1st Town Hall. Registration is required.

Strategic Planning Workgroup 
Joe Bowie
Louise Drysdale
Andrea Kozai
Jia Xi Lee
Nicoletta Lekka
Sofia Ornellas Pinto
Ana Paola Ramos
Hanna Pohjola
Emma Redding
Myriam Sillevis Smitt
Paula Thomson
Gregory Youdan, Jr.
IADMS Leadership

In 2016, a meeting with organizational leadership and stakeholders at the annual conference in Hong Kong produced a 5-year strategic plan. The goals at that time included:  
1- Disseminate current research and emerging theories;
2- Extend and consolidate links with medical, scientific, and educational practitioners and organizations;
3- Promote links with dance teachers and training and performance organizations;
4- Establish a sound financial base that will support the expansion of staff, resources, and initiatives;
5- Establish sound internal practices, policies, and procedures.

Special Thanks
We would like to thank those on the IADMS Board of Directors who served on the Strategic Plan Update Task Force:
Matthew Grierson, MD (Chair)
CC Conner, LLB
Jill Descoteaux, PhD, AT
Gayanne Grossman, PT, EdM
The 2021 IADMS Strategic Planning has been supported in part by: