Strategic Planning 2021

Want to be involved in the Strategic Planning for IADMS? We are inviting YOU!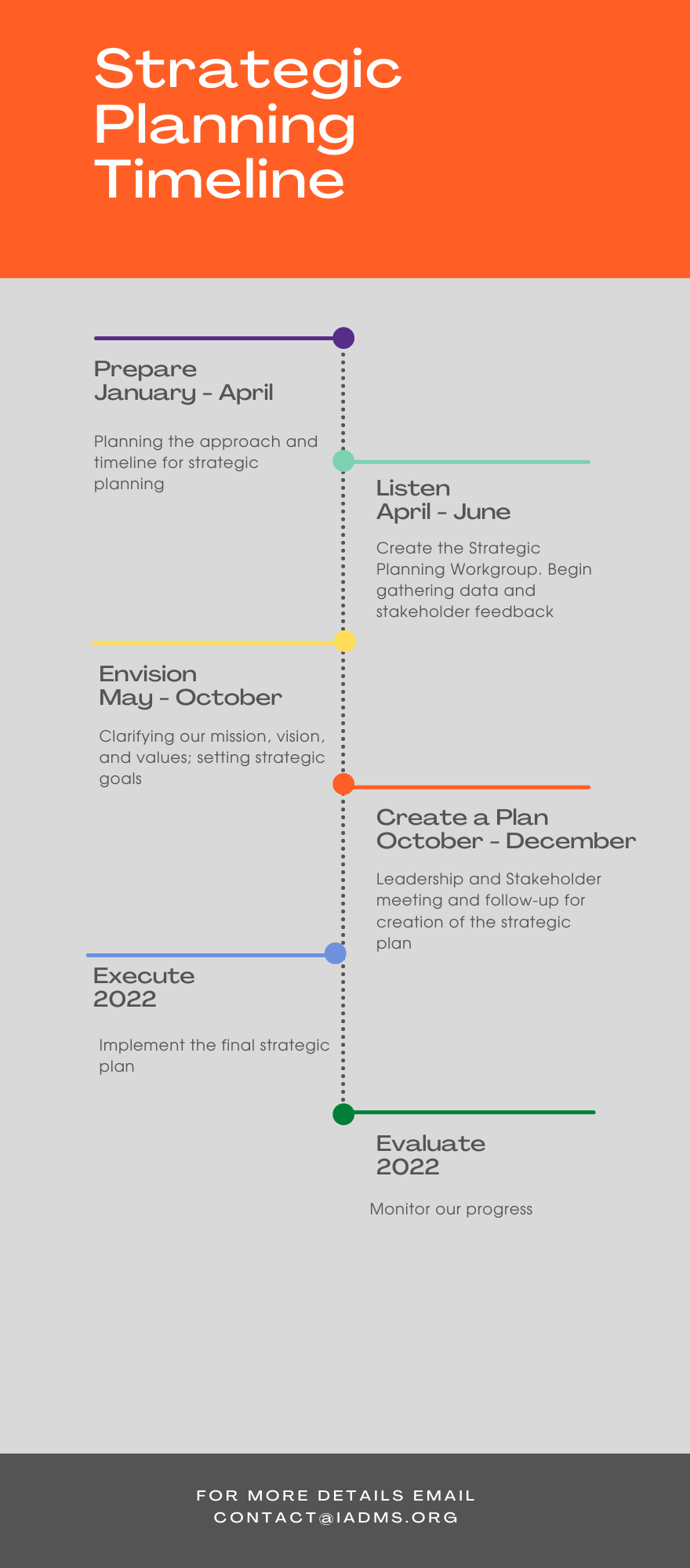 Strategic Planning Workgroup
An open call for applications to participate in the IADMS 2021 Strategic Planning Workgroup will open soon! Members will be approved by the Board with the goal of building a Workgroup that reflects the diversity of perspective, identity, experience, and vision among members of our community. We anticipate that the Workgroup will meet regularly throughout the second half of 2021, for 3-4 hours a month. 
The Workgroup will gather stakeholder feedback and consider any updates to the mission and vision of IADMS. They will work to identify important goals and objectives for IADMS to achieve in the years ahead.  It is anticipated that there will also be a virtual or hybrid gathering for the Workgroup and other stakeholders in conjunction with the Annual Conference.
All interested members of our community are invited to participate. If you know of any people (members or non-members) who would be excellent for this type of work, please encourage them to apply!

- Deadline for submissions is June 7, 2021
- Estimated time to complete the application in 30 minutes (can save in progress)
- The application includes 3 short answer sections
- Responses will be reviewed by the IADMS Board with the goal of building a strong workgroup that reflects the diversity of perspective, identity, experience, and vision in our community
- Responses will be kept confidential to the IADMS Board of Directors and staff
- Up to 10 Workgroup members will be selected
- Decisions will be announced at the end of June

In 2016, a meeting with organizational leadership and stakeholders at the annual conference in Hong Kong produced a 5-year strategic plan. The goals at that time included:  
1- Disseminate current research and emerging theories;
2- Extend and consolidate links with medical, scientific, and educational practitioners and organizations;
3- Promote links with dance teachers and training and performance organizations;
4- Establish a sound financial base that will support the expansion of staff, resources, and initiatives;
5- Establish sound internal practices, policies, and procedures.