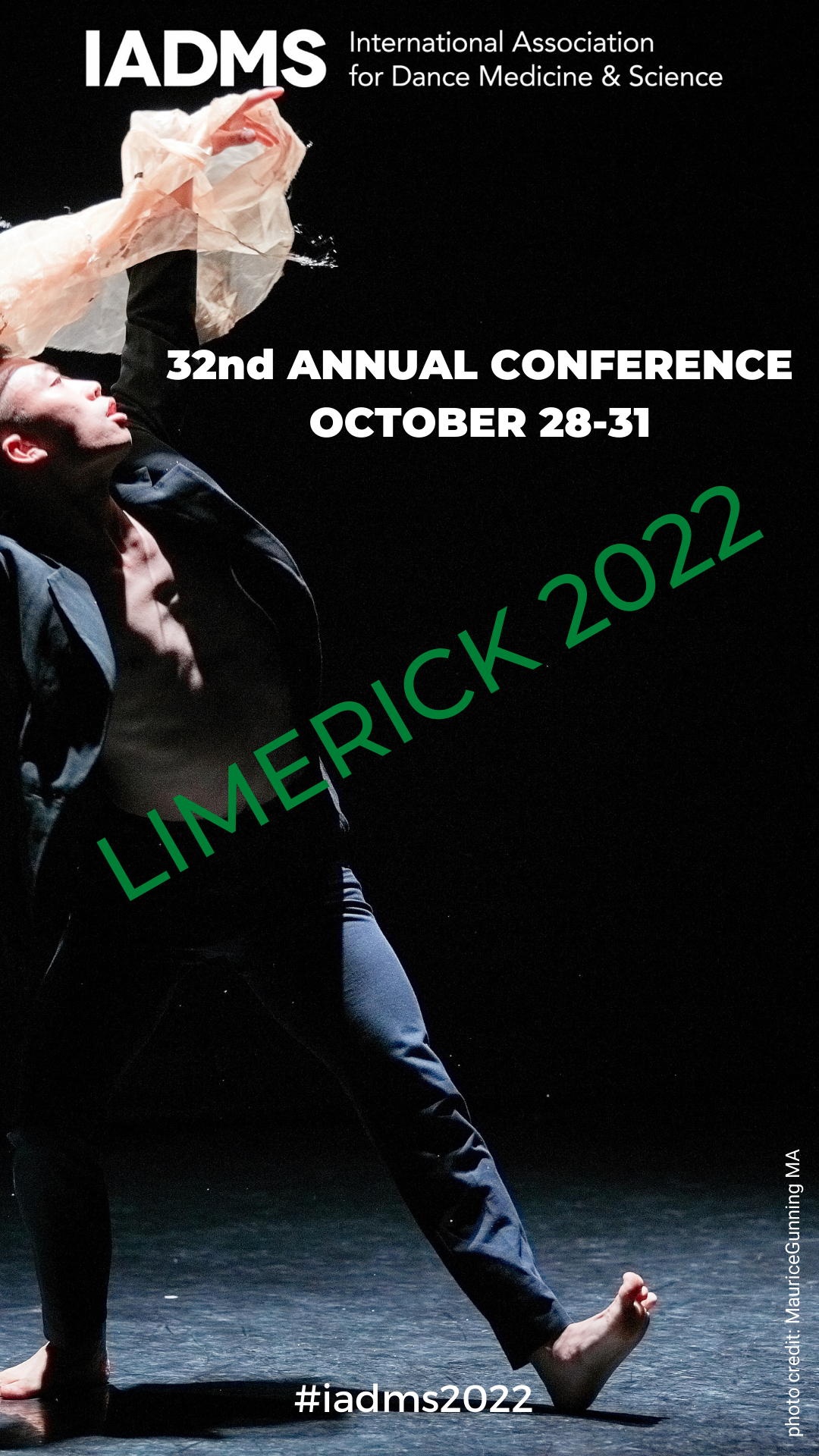 AUGUST   |   2022

August 2022
STOCKHOLM, SWEDEN & VIRTUAL
The Swedish School of Sport and Health Sciences
No Tuition Fee for EU Citizens 
Application Required (Opens mid-March - mid-April) 
Search "Ballet"
The Swedish School of Sport and Health Sciences in Stockholm is happy to announce two new courses specifically aimed at high-level ballet educators, starting in August 2022: (I)Psychology for ballet educators and (II) Anatomy & physiology for ballet educators. These courses are designed for teachers, professional dancers about to become teachers, and other ballet educators such as choreographers, ballet mistresses/masters, managers, and artistic directors. We will focus on high-level educators (having a formal education in classical ballet at the upper secondary school level and 5+ years of professional experience in classical ballet) to ensure a group that is sure to benefit greatly also from knowledge exchange with each other.
Each course is 7.5 ECTS credits. They will be delivered mostly via distance learning (online). However, 2.5 days on campus for each course ensure all-important practical learning and networking. Learn more here. 
August 5-7, 2022
DENVER, COLORADO
Embassy Suites Denver Downtown Convention Center Hotel  
This August, the Bridge Dance Project will host a conference specifically geared to competition dance studio owners/teachers/convention planners entitled Optimizing Performance for Competition. This conference will focus on immediately applicable information people can take home and introduce into their own competition settings. 
Register, view the schedule, book your accommodations, and learn about sponsorship opportunities on the BDP website. 
August 28, 2022
COPENHAGEN, DENMARK
Hvidovre Hospital
Registration Fees: $145-220
Dance Science Denmark welcomes Sue Mayes, PhD, Principal physical therapist and Medical team manager at the Australian Ballet, to our yearly symposium on "The Dancing Hip". The location will be close to Copenhagen at Hvidovre Hospital on Sunday 28th of August from 9:00-17:30. The symposium is relevant for all interested in dance medicine and science; dancers, dance and movement teachers, medical professionals, and more.
Participants will: be provided with an in-depth update on the current research on hip injury in dance; learn and practice a hip assessment, including dance-specific evaluation; learn and practice manual therapy techniques, including soft-tissue and joint mobilization, and taping for the hip; participate in evidence-based exercise programs for the hip, with specific reference to dance; and discuss criteria for a safe and optimal return to dance.
Visit Dance Science Denmark for more information and to register. Questions? Email info@dancescience.dk.  
SEPTEMBER   |   2022

September 17, 2022
WASHINGTON DC
Dance Loft of 14
FREE
Open to Local Freelance Dancers ages 18 and older. Register for your free health screening with area Dance Medicine Specialists, Nutritionists, Counselors, and Physicians. During this free health screen, a licensed healthcare provider will assess your past medical history, vitals, cardiovascular fitness, and musculoskeletal symmetry, including posture, strength, and range of motion, in addition to several dance-specific movements. Upon completion, participants will meet with a Dance Medicine Specialist to discuss the findings and create an action plan.
*Screens take approximately 60 minutes to complete, and participants must pre-register as space is limited! This screen is not a comprehensive medical exam but may help identify any "red flags" that place dancers at higher risk for injury based on their overall health & mobility.
Stay tuned for more information on our free workshops throughout the day with dance teachers and movement instructors in Pilates, Yoga, and GYROTONIC® Method. To build community connections that will keep our dancers healthy, safe, and perform in the DMV (DC, Maryland, & Virginia area).
September 25, 2022
LISBON, PORTUGAL
University of Lisbon - Faculty of Human Kinetics
Registration Fee: €50
The 3rd edition will run from September 2022 to July 2023. With 150 hours of attendance (9 intensive weekends, 1 per month) and 100 hours online.
1st Semester Fundamentals of Dance Training (principles and components of training, performance quality, strength and conditioning, warm-up and cooling down, work-to-rest ratio, circadian rhythms, energy expenditure in dance, etc.); Dance Movement Analysis (observation of motor behavior, kinesiological analysis and biomechanical analysis of motor actions in dance); Motor Learning in Dance (learning stages, demonstration and verbal instructions, feedback, practice variability and specificity, whole and part practice, mental practice, etc.); Dance Techniques Training I: classic (include floor barre and barre in the water), contemporary, street dance, ballroom dance, etc.; Seminars I: Dance Injuries Prevention; Postural Balance Training; Plyometric Dance Training, Motor Rhythm Training; Performance and Anxiety Control.
2nd Semester Evaluation of Dance Training (dance screenings, anthropometric measures and body composition, physical condition, postural assessment, muscular imbalances, pointe readiness, motor memory, etc.); Young Dancer Training (motor development and maturation, sensitive and critical periods, talent identification and development, ethics in youth training, etc.); Dance Training Planning (periodization, dance training load management, exposure time, acute-chronic load ratio, etc.); Dance Techniques Training II (continuation of DTT I); Seminars II: Interpersonal Coordination in Dance; Motor Memory in Dance; Assisted Stretching and PNF Techniques; Pointe Work; Performance and Motivation; Intervention Projects (elaboration of an intervention project in dance training domain).
Language: Portuguese/English
OCTOBER   |   2022

October 28 - 31   | 

 IADMS EVENT
LIMERICK, IRELAND
The IADMS 32nd Annual Conference will be held at the University of Limerick, Ireland from October 28-31, 2022. This 4-day event will include the most up-to-date clinical and scientific research on dance medicine and science. We welcome all in the field to join us next year in person at the University of Limerick! Sign up for our mailing list to ensure you receive up-to-date information as it is released. 
NOVEMBER  |   2022

November 10, 2022
WEBINAR; 18:30 - 20:00GMT
Registration Fee: £10
Our psychological and physical health is paramount in optimizing functioning and performance at all levels. This webinar will be most valuable to those interested in understanding how dance can be an important tool in nurturing our psychological and physical health and overall wellbeing. Through movement, artistry, creativity, music, and social interaction, dance is a unique experience that can benefit our mental and physical health. This session will introduce Dance for Health, explore its positive impact on physical and mental wellbeing, cover the latest research on this topic, and discuss evidence-based interventions. It will focus on enablers and barriers to implementing dance activities in healthcare, and offer up-to-date recommendations based on the latest guidance. Short films will showcase how dance can play a valuable role in health and wellbeing. For more information, email bpsenquiries@redactive.co.uk.
November 19-20, 2022   
Healthy Dancer Canada Annual Conference: Participation, Performance, Personal Wellness
VIRTUAL-ONLY
Healthy Dancer Canada is pleased to announce our annual conference Participation, Performance, Personal Wellness. The conference will be taking place virtually on November 19 & 20, 2022. This conference aims to bring together dancers, dance educators, dance medicine professionals, dance movement researchers, and anyone else interested in dancer health and wellness. Registration will open in September, and full details can be found at www.healthydancercanada.org.
DECEMBER  |   2022

December 3, 2022   |   

IADMS EVENT
Student Networking Session
ZOOM 
7:00 PM EST
FREE - IADMS STUDENT MEMBERS
Join the IADMS Student Committee for the third and final of the 2022 Student Networking Sessions on December 3. Topic for discussion: TBA.
All three of the Student Networking Sessions in 2022 are open to active IADMS Student Members. A link to register will be sent to all IADMS Student Members by the Student Committee Chairs in the week prior to the event. Questions? Email: students@iadms.org. 
JANUARY  |   2023

January 14, 2023   |   

IADMS EVENT
LONDON, UK
Co-Hosted by Middlesex University 
Registration Opens November
Join us for the IADMS Regional Meeting, The Holistic Dancer: The Art of Connecting Dance Science and Practice, co-hosted with Middlesex University. During this one-day event, we will explore the practices and principles that underpin dance science research in an accessible and applicable way for the dance teacher, dance artist, and choreographer. By engaging participants with the sciences in this way, we aim to guide the discourse on how best to adapt dance practice in order to enhance the performance of future professional dancers and choreographers. Join us for a day of integrated learning, with lectures focused on translating the academic/technical language used in peer-reviewed scientific and clinical research articles, and movement/interactive sessions that will incorporate the sciences into applied practice for dancers of all levels and ages. 
OCTOBER   |   2023

October 12 - 25   | 

 IADMS EVENT
IADMS 33rd Annual Conference
COLUMBUS, OHIO
The IADMS 33rd Annual Conference will be held at the Renaissance Columbus Downtown Hotel, 50 North Third Street, Columbus, Ohio, USA. This 4-day event will include the most up-to-date clinical and scientific research on dance medicine and science. Sign up for our mailing list to ensure you receive up-to-date information as it is released. 
Mark Your Calendars! Call for Abstracts Opens January 15, 2023 / Registration Opens June 15, 2023!
Questions? Email conferences@iadms.org 
VIRTUAL / ON-DEMAND

ONLINE COURSES 
(I)For Students (II)For Professionals (III)For Working Parents (coming soon)
Presented by Imogen Aujla, Dance in Mind offers online psychology courses for dance professionals and students to help deal with stress, create a better work-life balance, and cultivate optimism. Drawing on CBT and coaching techniques, the courses are a mix of webinar-style video tutorials and worksheets to help you put what you're learning into practice. Create positive change and enhance your wellbeing in just a few weeks - each course works brilliantly as a stand-alone but were designed to be taken together, and as a special introductory offer, you can buy all 3 courses for just £50.
ONLINE COURSES 
Presented by Nicky Keay BA, MA(Cantab), MB BChir, MRCP, these online courses provide dancers, teachers, and parents with the latest professional-level training and medical performance strategies on how young female dancers can reach their full potential in dance. The aim is for every dancer to achieve her personal best in a healthy and sustainable fashion. The online course also has a quiz and links to further resources.
Two courses are available:
Training as a High Performing Female Dancer - Team offers the course for a group of dancers, teachers or parents. US$199
Training as a High Performing Female Dancer offers the course for an individual dancer. US$59
These courses are offered through Sports Ready Academy and are endorsed by the British Association of Sports and Exercise Medicine.