JUNE 18, 2022
Dance + Health: How Can We Use Dance to Improve Health
GAIA, PORTUGAL & VIRTUAL
Armazém 22 / Ginasiano School of Dance, Gaia
Join us for the IADMS Regional Meeting, Dance + Health: How can we use dance to improve health?, in Vila Nova de Gaia, Porto, Portugal, a UNESCO World Heritage Site by River Douro, to be held Saturday, June 18, 2022. This hybrid event will allow everyone the opportunity to attend, whether they are limited by distance or by potential future health restrictions. The venue for this event is A22, a contemporary theater run by Kale Dance Company. It shares its premises with Ginasiano School of Dance, the biggest pre-college dance school in Portugal, with 800 students, 50 national and international teachers, and 4 branches in the North-Interior region of Portugal. A22 is built in an old Port Wine Cellar located in a UNESCO World Heritage area, at walking distance from the famous Port Wine Cellars, such as Sandman, Graham's, and Taylors, amongst others. In front of A22, you will find the newest addition to the historic center, called WOW (World of Wine), an entire district that pays homage to this region, with museums, restaurants, and shops.
For the last few years, dance has gained the attention of researchers, psychologists, and doctors as a practice of well-being and health enhancement. We believe dance is a powerful tool for the well-being of all individuals, including those suffering from diseases related to motor dysfunction or degeneration. This one-day meeting will provide current theoretical and practical approaches to how dance is used to improve health in different individuals. We hope you participate in the event, whether in person with us in Porto or online and that together we can learn and improve our knowledge of dance as a path to well-being.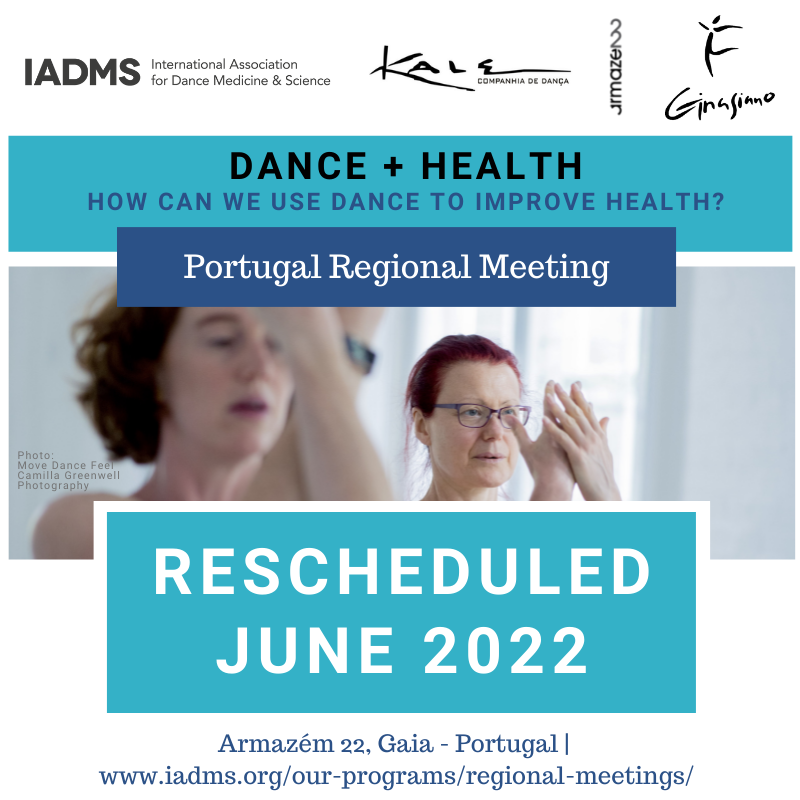 JANUARY 16, 2023
The Holistic Dancer: The Art of Connecting Dance Science and Practice
LONDON, UK & VIRTUAL
Co-Hosted by IADMS and Middlesex University
Save the Date
More information coming soon.