Dancers have the answers when it comes to dance floors
Author: Luke Hopper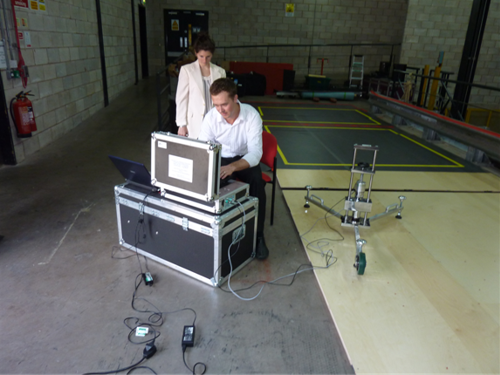 Pictured: Luke Hopper, Talia Wheeler; Photographer: Ray Marsh of Harlequin Floors
So you are starting a new school or planning a performance tour, you check out the venue, look at the floors and some red flags go up. All of a sudden you have a difficult decision to make. Is this floor sprung and going to be ok for my dancers? Here are a few tips from some recent research that can help you if you have experienced this common problem.
Sprung floors are basically made to absorb and return energy during dancing. Absorbing energy can decrease impact on a dancer's body and energy return can help jumps. The top surface of a sprung floor normally sits on a foam or basket weave structure so that it can move up and down with the dancer returning and absorbing energy. So the first thing to do when checking out your new floor, is try to get an idea of the floor structure. Unless you are lucky enough to have the actual floor details or specs, this often means getting on your hands and knees and trying to see what lies beneath. Doorways and barre posts are often good spots where you can get a good look underneath the top surface of the floor. If you think the floor structure might be ok then it is time to quiz your dancers.
Standards
First of all, there are standards that are apply to the manufacture of dance floors. These standards are typically developed from the sporting industry and have their limitations for dance. Dancers generally prefer a soft floor that falls within the upper ranges of the standards for shock absorption. Nonetheless, if you are going to purchase a new floor you should always ask the manufacturer if their products have been approved by the standards for your region of the world.
Dancers have the answers
When it comes to deciding if a floor is appropriate for dance, recent studies have shown that dancers know what they are talking about when it comes to floors. When interviewed as a group, dancers were able to give a good estimate of dance floor properties compared to the standard measures. Therefore asking your class or company dancers what they think of a floor is a really valuable way of getting a better understanding of a floor. Here are a few tips to help you along;
Every dancer will have a different sense of the floor. Just like different dancers prefer different shoes. Therefore it is important that you get a group response about a floor. Individual dancer preferences for floors are not a reliable measure.
Let dancers make their own decisions. This means getting dancers to develop and give their opinions anonymously. This way they don't feel pressured into the 'expected' response.
Use specific and open questions. Asking specific questions is important but also give the dancers the opportunity to express their own opinions. Often these dancer perspectives will make you stop and look at the problem differently.
Make sure the dancers use the whole floor. Just hopping up and down on the spot is not enough to get a good feel for the floor. The dancers need to experience the whole floor space using lots of different movements. Choreographing a short routine for the all the dancers to test the floor with can be a good way of getting them moving.
Give yourself a comparison. If you have access to another floor that you know meets the standards and is appropriately sprung, get the dancers to repeat the questions on the other floor. This will give you a better scale of how the new floor rates for the dancers.
Once you have the responses from the dancers it is ultimately your call whether or not to go with the floor. Although, hopefully the dancers have helped you with your decision. If you decide to use the floor but still have your reservations, make sure to structure the first classes and rehearsals at a low intensity. This will give the dancers the time to adjust to the floor and help you identify any problems along the way. No one wants to have to stop classes because of an inappropriate floor so working with your dancers in the interests of their own safety is important for a safe and effective dance environment.
Luke Hopper, PhD, is a postdoctoral scholar at the Western Australian Academy of Performing Arts, Edith Cowan University.
Email: l.hopper@ecu.edu.au
Phone: +61 8 6304 8234
Recommended readings
Hopper LS, Wheeler TJ, Webster JM, Allen N, Roberts JR, Fleming PR. Dancer perceptions of the force reduction of dance floors used by a professional touring ballet company. J Dance Med Sci. 2014:18(3):121-30.
Hopper LS, Alderson JA, Elliott BC, Ackland TR, Fleming PR. Dancer perceptions of quantified dance surface mechanical properties. Proceedings of the Institution of Mechanical Engineers, Part P: Journal of Sports Engineering and Technology. 2011:225(2):65-73.