IADMS Education in Motion: A member reports on a Pre-Pointe Education Workshop in New Zealand
Author: Esther Juon Veitch 

IADMS is an international organization, and our reach is truly international. In addition to annual conferences and regional workshops, our members are taking the information from dance medicine and science to the most important venues—private studios in small towns, where the application of the information can make a difference for the young dancers and their teachers. This report from Esther Juon describes such an event. 
I have recently come back from a five day trip to Aratapu a small place consisting of a hotel and a dance school and a few houses 10 km from Dargaville in provincial New Zealand.  
To cover this full day workshop, followed by assessments and fittings, most of the 8 students attending the workshop held a fundraiser. By selling homemade cupcakes and raffle tickets in their town, they raised enough money to pay for the course and the assessments. 
I had been invited to present a six hour Foot & Pointe Shoe Workshop, followed by fittings of pointe or demi-pointe shoes the next day. These dancers are in three different classes, the equivalent of BBO (British Ballet Organisation) or RAD Grade 5, Intermediate Foundation and Intermediate. 
After settling into the local hotel I met up with the ballet teacher that evening and took her through our PowerPoint presentation and the relevant articles from the IADMS Bulletin for Teachers and Dancers. 
I was able to cover the new material and explain the importance of the approaches I was going to use in the workshop.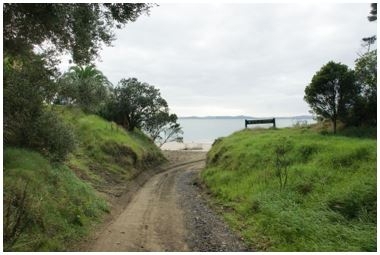 We began the morning with an interactive PowerPoint presentation, covering the anatomy of the foot and how that relates to ballet. We also explored what the requirements are for a dancer to be ready for pointe and how the foot should be supported in a pointe shoe (resource here). 
The second part of the workshop included working with the dancers on the personal commitment required to safely get ready for pointe work. This includes being technically, mentally, and physically ready to go on pointe. I took the dancers through a series of exercises & stretches that should to be done on a daily basis in order to prepare for pointe work. 
Day two was spent working with the dancers individually (2 hours each) and preparing a 5-6 page report, with photos, for each of them to refer to once I was gone. The teacher filled in a pre-prepared form & took notes about each student, while I worked with them. I took photos of what the dancer does currently and noted any improvements she could make. This way the teacher could see why a dancer had certain problems with movements or steps and was involved in changing the way the dancer worked and moved. The report was edited later on, photos added & emailed to the teacher, dancer, and parent. They now have a document to work from until I see them again. At that stage new photos will be taken so we can document the progress each dancer has made. 
The teacher has since decided to revisit everything learned and shared in the course and is addressing the personal corrections for each student so progress can happen quite quickly. I look forward to going back to visit them and fundraising for my next trip has already started. 
Working with the resources from IADMS I am hoping to reach out to many more teachers to provide them with information to help them prepare their students for pointe work. It is imperative that each dancer goes through her adolescent growth spurt before starting pointe work. In my opinion this is the most important consideration to make for the well-being of the dancer. 
Esther Juon Veitch: BBO RTS Dip CID. Member of IADMS Education Board. 

IADMS series one posters are a perfect resource for this topic as they cover the Adolescent Growth Spurt, Pointe Readiness and Proprioception. To order this set, and other IADMS posters, click here.