One Dance UK Conference 2017
Author: Janine Bryant on behalf of the IADMS Dance Educators' Committee 
The beginning of the academic year brought an exciting announcement from One Dance UK with the programme for its first-ever Conference Season to be held at Trinity Laban Conservatoire of Music and Dance. The conference, held in November, spread three separate programmes over two days and combined the best of the UK's dance sector knowledge and delivered an outstanding weekend of insights and conversations. One Dance UK presents an incredibly wide range of expertise and this conference was demonstrative of all the organisation has to offer. There were three conferences on the programme – the Dance Teaching and Participation Conference, a Choreographers' Conference, and a Healthier Dance Progamme Conference.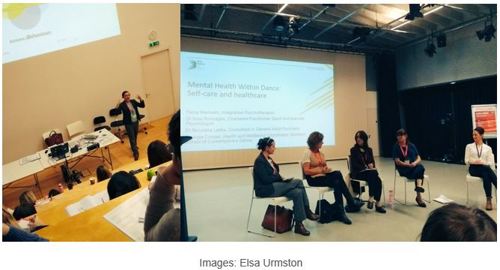 The timetable included workshops, keynotes, practical sessions, seminars and networking opportunities and offered attendees many options designed to update and up-skill their current knowledge. Interesting and thought-provoking sessions included 'Long Table' and 'World Café' formats, aimed at fostering collaboration, creativity and idea exchanges with industry leaders. 
The Dance Teaching and Participation Conference, held on Saturday 25 November, focused on the value of dance in education, and included guest speaker Tamara Rojo CBE. This conference culminated in exciting performances by exceptional youth dance companies and the BBC's Young Dance Finalist, Jaina Modasia. 
The Healthier Dancer Programme was held on 26 November, running concurrently with the Choreographer's Conference, and sometimes overlapping and sharing sessions. This offered opportunities for dance artists and scientists to discuss various issues such as accessibility, sustainability and diversification in dance. Featured choreographers included Charlotte Vincent, Omari Carter and Rosie Kay. The discussion was lively and thought-provoking as each artist presented attendees with separate prompts to generate discussions in groups. We were encouraged to move around and switch groups, which made for an exciting and engaging session and was one of the first times that dance medicine and science specialists shared conversation-time with choreographers, a very welcome and inspiring opportunity for both sides! 
This conference featured discussions on dancers' mental and psychological health, psychological impacts of dance injury and tips on how to help dancers overcome the after-effects of injury. Speakers included Irina Roncaglia, performance psychologist, rehearsal director, producer and teacher, Claire Cunningham, artist, Stuart Waters and an exciting talk by Dr. Roger Wolman, of the Royal National Orthopaedic Hospital, whose vast expertise includes a focus on Sport and Exercise Medicine. Dr. Wolman shared information on the evolving discussion in the medical community regarding injuries in dance to include an understanding that, for dancers, injuries are an emotional as well as a physical event. His insights into the emotional impact of injuries for dancers were validating for all who attended the talk, as he offered ways to assist injured dancers through a multipronged approach. 
It was an incredible weekend programmed with over 100 years of expertise in dance, supported by the outstanding venue, Trinity Laban Conservatoire of Music and Dance, and presented in partnership with The Bench. 
Janine Bryant, BFA, MA, SFHEA, is a member of the IADMS Dance Educators' Committee, Associate Editor of The Bulletin for Dancers and Teachers, faculty member in the School of Performing Arts -The University of Wolverhampton and a Registered Provider of the Safe in Dance International Certification.