Adding Fitness to your Dance Agenda: Where to start?
Author: Clara Fischer Gam 
So you came to the understanding that it is not all about dancing: in order to nourish your body for greater freedom of artistic expression, other elements have to be added to the equation. You have already done the reading about reducing the risk of injuries and enhancing performance. Then you came across supplementary fitness training and its role in supporting your career goals and longevity. Feeling more responsible for your body and empowered to take care of yourself, you are now craving for putting it into practice – what then? 
Signing up at the local gym? Trying yoga? Going for a run? – Practically speaking, where do you start? 
To be responsible for your body means not only to get informed and up to date but also to know when to look for professional support. Having a certified health and fitness professional to guide you through supplementary fitness training is imperative. As Dance Medicine and Science is an emerging field, many of these professionals, however may not be familiar with the needs and aims of dancers, neither with the demands of the art form. Whilst it is always best to look for specialists from the field, we know that is not often feasible. It might be the case that you cannot find one locally, however it is much more likely that there will be good certified professionals working in your neighbourhood. This is when "being responsible for your body" comes into play again: Work together with your health/fitness professional as a team for your health by sharing with him the information you now hold and including dancers' health resources. Support him to support you. 
Where to start? 
Learn about the demands of your dance career: Are you a ballet dancer? Or are you training in Breaking? Kathak? Contemporary? Dance styles have their particularities; therefore, physical demands may likely vary. Besides, career level may also result in different requirements to your body. All of that has to be taken into account when preparing to perform. There is a lot of discussion and interesting findings concerning dance physical demands and to what extent styles and levels would differ in terms of elements of fitness being stressed. Find a well-rounded summary and good resources to start here.
Identify your own needs: At the moment, what are you aiming for in your career? Where can you spot that there is room for improvement? Have you got any injuries currently? Getting a screening session is the starting point for building up a fitness programme that supports your dance goals truly from inside out.
Understand your dance calendar: What are you preparing for? When? Keep track of your dance routine, daily schedules and performance calendar. Have you got a packed day of classes in school? If you are dancing in a company, when are you touring? Or will you be performing mostly one-offs? We know that in the dance world it can be very hard to predict in advance your dance curriculum or performances, specially if you are a freelance dancer. Likewise, you might not be in control of your rehearsals and classes schedules to adapt them to a better fit. However, by estimating your workload, your fitness professional will be able to design a more suitable programme for you.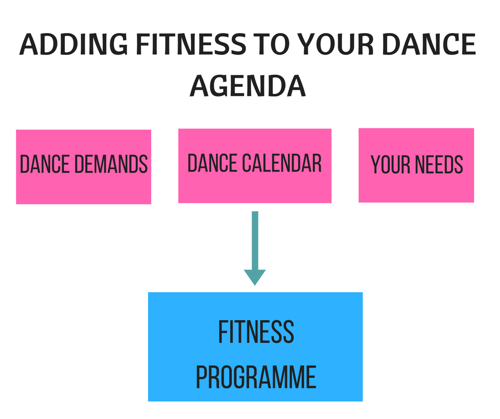 Image: Clara Fischer Gam 
By having access to information about your needs, routine and dance demands, a fitness professional can more readily apply their expertise of training principles and methodologies to support you in your career journey. 
Clara Fischer Gam, MS
MSc Dance Science | BEd Dance Education
Rio de Janeiro – Brazil
Dance Science Brasil Group
Corpos Aptos, Gestos Livres Project