Presenters at Australia's IADMS Regional Meeting April 2017
Author: Maggie Lorraine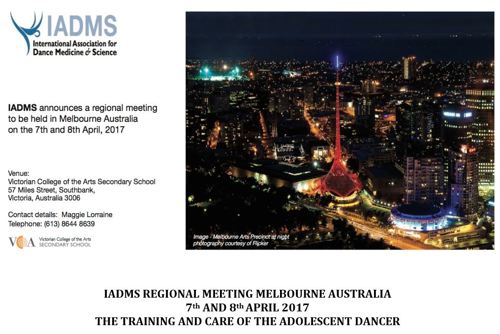 The topics presented at the meeting will convey anatomical and medical information to the attendees. Presenters and practitioners will share anatomical and medical information as well as demonstrate potential methods of working with and helping students. 
The Regional Meeting will be tailored toward the dance teaching community but it is envisaged that it will also stimulate interest with medical practitioners. The event will be hosted at the Victorian College of the Arts Secondary School (VCASS) which is the education provider to the Australian Ballet School. 
Both of these schools attract dance students nationally and internationally. 
Confirmed Presenters: 
The Australian Ballet Health Team
Sue Mayes      Principal Physiotherapist.
Susan Mayes has been the Principal Physiotherapist of The Australian Ballet since 1997. She manages the medical department of The Australian Ballet and treats the diverse injuries of the professional ballet dancer, as well as musicians of Orchestra Victoria. Susan graduated from La Trobe University in 1990 with a Bachelor of Science (Physiotherapy) and completed a Graduate Diploma in Sports Physiotherapy in 1996. She has been a collaborator or co-investigator in several ballet-related research projects and published the findings from her research on the hip in ballet dancers as part of her PhD 
Paula Baird-Colt      Body Conditioning Specialist.
Paula Baird-Colt graduated from the Victorian College of the Arts Secondary School, beginning her professional dance career with the West Australian Ballet before joining The Australian Ballet in 1987. After retiring in 2000, Paula retrained in the Pilates Method. From 2001 – 2007 she taught a dance-specific conditioning program at The Australian Ballet School. She is the co-author of the book Body wise: Discover a new connection with your ballet. A member of The Australian Ballet's medical team since 2007, she works with dancers to help them understand and improve their body management and has developed an innovative approach to conditioning. 
Megan Connolly      Ballet Mistress and Rehabilitation Specialist.
Megan Connelly joined The Australian Ballet in 1991, performing in works such as The Sleeping Beauty, Don Quixote, Giselle and Symphony in C. She later followed her passion for teaching and was appointed Assistant to the Ballet Staff. In 1995 Megan left the Australian Ballet but returned to the Company in 2001 as Assistant to Artistic Director and Ballet Coach. In 2009 she was appointed Ballet Technique & Rehabilitation Specialist. Since 2010 Megan has been on the teaching faculty of The Australian Ballet School, and has completed a Vocational Graduate Certificate in Elite Dance Instruction. 
_______________________________________________________________________ 
Janet Karin
A former Principal Dancer of The Australian Ballet, Janet Karin established her teaching career in Canberra, devising her own teaching system and training many outstanding dancers, choreographers and teachers. Ms. Karin's publications include a variety of papers and studies in dance training, dance education and cultural development. She has received awards for direction, teaching and services to dance, including the Medal of the Order of Australia. Dance science research is an important aspect of Ms Karin's work as Kinetic Educator at The Australian Ballet School. In 2010 she was awarded a Centre of Clinical Research Excellence grant to carry out a study into imagery and dynamic pelvic stability with Professor Paul Hodges, international expert in spine health. This year she is investigating the neuroscience and management of pain, and also the development of movement efficiency in adolescents. 
Liz Hewett      Absolute Health & Performance S
trength and Conditioning Coordinator/Exercise Physiologist Imbalance Massage and Pilates, Pilates Teacher / Exercise Physiologist, Exercise Therapy Consulting Australia, Exercise Physiologist 
Fiona Sutherland      Director, Body Positive Australia & The Mindful Dietitian
Fiona Sutherland is an Accredited Practising Dietitian & Nutritionist with a diverse working background including international clinical work, private practice, sports nutrition, corporate consultancy, research & working extensively in dietetic training. Fiona is also an Accredited Sports Dietitian, working with elite athletes, including the young dancers at the Australian Ballet School in Melbourne. 
Gene Moyle      Head of Dance QUT, Associate Professor
Creative Industries Faculty, School of Media, Entertainment and Creative Arts, Dance Gene Moyle graduated from the Australian Ballet School and QUT Dance. After having danced with the Australian Ballet Dancers Company and Queensland Ballet, Gene completed a Masters and Doctorate in Sport and Exercise Psychology. 
Dana Rader GYROTONIC® Melbourne,
Grad Dip Exercise Science (Rehab), Accredited Exercise Physiologist (ESSA), GYROTONIC® and GYROKINESIS® Specialized International Master Trainer, Diploma of Contemporary Pilates and Teaching Methodology, 
Debbi Fretus      Innovative Physio,
Advanced Diploma of Myotherapy (MIMT) (AAMT), Level 4 Pilates Practitioner (APMA), Diploma of Contemporary Pilates and Teaching Methodology. GYROTONIC® and GYROKINESIS® Level 1 Certified Instructor.
Debbi has a vast and varied dance background, from Ballet, Contemporary Jazz, Tap and Character. She has been employed as a professional dancer, teacher, adjudicator and choreographer nationally and internationally having danced with Sydney Festival Ballet, Athens City Ballet, Greece, and CH Tanzteater Zurich, Switzerland. Debbi has taught as a freelance ballet/dance teacher as well as having run her own ballet/dance school in Queensland.  
Professor Jill Cook
Professor in musculoskeletal health in the La Trobe Sport and Exercise Medicine Research Centre at La Trobe University in Melbourne Australia. PhD, Grad Cert Higher Ed, PG Dip Manips, BAppSci (Phty)
Professor, Deputy Director Australian Centre for Research in Injury in Sport and its Prevention Jill's research areas include sports medicine and tendon injury. After completing her PhD in 2000, she has investigated tendon pathology, treatment options and risk factors for tendon injury. Jill currently supplements her research by conducting a specialist tendon practice and by lecturing and presenting workshops both in Australia and overseas.  
Chris Swain, Australian Catholic University. Current research: Lower Back Pain in Adolescents Chris Swain is a graduate of Trinity Laban and has presented at IADMS International Conferences, most recently at the IADMS Conference in Hong Kong. 
Dr Sela Kiek-Callan      Contemporary Studies, VCE DANCE, Victorian College of the Arts Secondary School (VCASS) Sela completed a Master of Philosophy researching site specific performance in 2003 through Coventry and Middlesex Universities in England. Sela is also a sessional lecturer on the dance degree programs at The Victorian College of the Arts and Deakin University. She completed a practice based PhD in Dance in 2011 through Deakin University and remains passionate about her area of research, architecture, the body and dance. 
Maggie Lorraine
Vice Chair of the IADMS Dance Educators Committee. Leading Teacher in Ballet, Victorian College of the Arts Secondary School (VCASS). Certified Trainer of GYROTONIC® Level 2, and GYROKINESIS® Maggie joined the Ballet Rambert aged 16 years. Later she danced with The Royal Ballet Company, working with the Covent Garden Company and Touring Companies, London Festival Ballet, P.A.C.T. Ballet (South Africa), New Zealand Ballet and West Australian Ballet Company. On retiring as a dancer Maggie moved smoothly into a full time teaching position at Ecole Classique in Sydney, then later joining the faculty at the Victorian College of the Arts (VCA) and the Victorian College of the Arts Secondary School (VCASS) in Melbourne. Maggie has been involved in the accreditation and course review of numerous tertiary institutions both nationally and internationally. In 2007 the Hong Kong Council appointed her as a Subject Specialist for Accreditation of Academic and Vocational Qualifications. Maggie is passionate in her position on the IADMS Dance Educators Committee, with the aspiration of bring the research and knowledge provided by IADMS to the dance community. 
For further information please contact: mlorraine@internode.on.net