Regional Meeting Edinburgh 2019 – Control
Author: Leanne Steel on behalf of the IADMS Student Committee
Between 29th-30th April, in collaboration with ACPSEM and the University of Edinburgh, IADMS hosted their regional meeting in Scotland which focused on the topic of 'Control'. The meeting consisted of a full day Saturday exploring topics relating to control in aesthetic sports as well as an optional evening session on Friday about 'Controlling hypermobility'.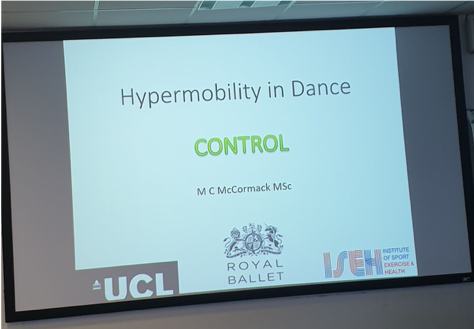 Friday's sessions included four presentations covering various aspects of hypermobility including the current state of hypermobility among dancers, an insight into hypermobility related injuries and surgery options, the psychopathological characteristics of hypermobility and the teaching and learning environment of dancers with hypermobility and those teaching them. Being someone who is interested in hypermobility, all presentations provided an insightful update on my current knowledge of the topic. Within the Friday session there were also practical workshops on how strength and conditioning, Pilates and Feldenkrais can be used to help dancers find enhanced control. These were particularly useful to physically experience exercises which could be used to inform hypermobile dancers who struggle with finding control but also to incorporate into my personal exercise sessions being a hypermobile dancer myself.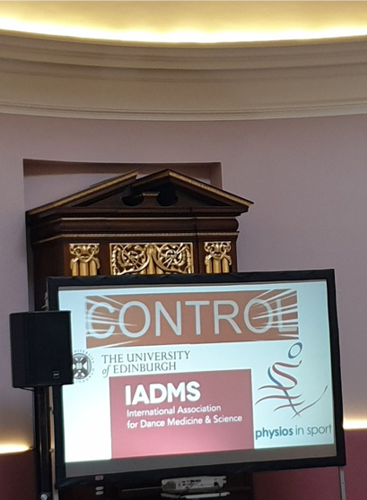 The main conference day on the Saturday had a much broader inclusion of topics relating to the main theme of the meeting 'Control'. These topics included injury, training load, leadership and burnout. Throughout the Saturday it was interesting to have speakers from other aesthetic genres of sport including gymnastics, ice skating and also from performance companies such as Cirque de Soleil who have performers with varying performance skills and training backgrounds. It became clear to me that issues dancers face are also common among these other aesthetic sports and performers but that there are clear differences that should be addressed when working with a performer. It was therefore frequently suggested by multiple speakers that you should always consider the specific needs of the performer and the outcome they are wanting to achieve in order to gain the best results.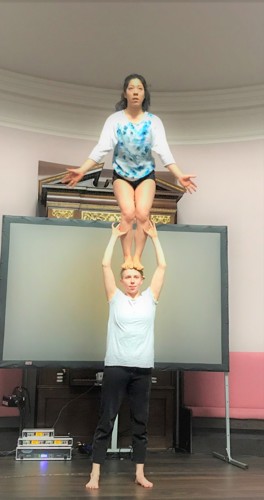 Pictured: Amy Longmuir and Saya Yamaguchi
A session that particularly interested me and took me by surprise was a session entitled 'Extra Control - Breast health in athletes' by Nicola Brown. In this presentation I was introduced to the structure of the breast and how little support is provided by our bodies structure alone, the consequences of exercising without appropriate support and the importance of wearing a supportive sports bra that is well fitted when exercising despite your cup size. It was also shocking to find out how only a third of women wear sports bras when exercising and that around three-quarters of women wear incorrectly fitted sports bras. This indicates a need for further education on breast health among women!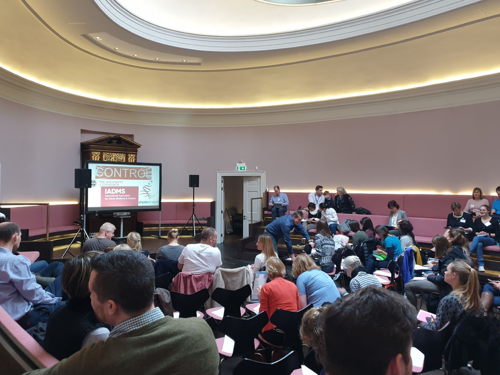 Being at the IADMS regional meeting opened my eyes to the impact of control on multiple elements of performers wellbeing and training but also that sometimes those working with performers need to reduce control to allow dancers to feel empowered.