Strategic Planning Update #1
Author: Matthew Grierson, MD, Board Director-at-Large and Strategic Planning Workgroup Chair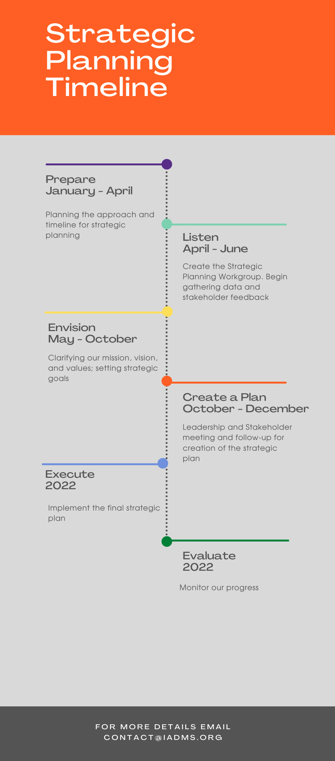 IADMS wishes to welcome and congratulate the members for our Strategic Planning Workgroup. The Board worked hard to ensure diverse representation in the Workgroup. Applicants were asked to discuss their interest, their experience, and their vision for the future of IADMS.
The following individuals were selected for the Workgroup:
Joe Bowie
Louise Drysdale
Andrea Kozai
Jia Xi Lee
Nicoletta Lekka
Sofia Ornellas Pinto
Ana Paola Ramos
Hanna Pohjola
Emma Redding
Myriam Sillevis Smitt
Paula Thomson
Gregory Youdan, Jr.
There was work to balance representation among clinicians (41%), educators (17%), researchers (25%), and students (17%). Members were selected from the United States (33%), UK/Europe (41%), Mexico (8%), Australia (8%), and Asia (8%). There is also a balance between early, mid, and late career participants and other factors, such as dance genre or work setting.
The Workgroup will be meeting over the next several months to review the IADMS mission and vision statements and gather stakeholder feedback.
They will gather feedback from our confidential and anonymous survey and develop the format for the IADMS Town Halls in the months ahead. All this work will culminate in a virtual retreat to be held in the weeks prior to the Annual Conference.
Please check back for regular updates. We hope you share our excitement in working to position IADMS for great success in the years ahead.