2021 Dance Educator Award - Special Awards Announcement
Author: the IADMS Dance Educators' Committee
Each year the Dance Educators Committee opens nominations for the Dance Educator Award, with the winner being announced at the annual IADMS conference. As a committee we are consistently overwhelmed and impressed by the expertise, experience and wealth of knowledge and passion from those nominated and their commitment to the continued education of dancers at all levels across the world.
This provides unique challenges in selecting just one deserving winner of this annual award, particularly with nominations for those who have made significant impact on educational and pedagogic practices, research and textbooks as well as pioneering work in the field of dance medicine and science.
As such, we are pleased to announce two further awards: Lifetime Achievement Award and Pioneer Dance Educator Award. These specific awards recognize a long-term commitment to the development of dance medicine and science work.
We are pleased to announce that this years' recipients are;
Lifetime Achievement Award: Karen Clippinger, Professor Emerita California State University, Long Beach. Nominated by Kathryn "Kitty" Daniels.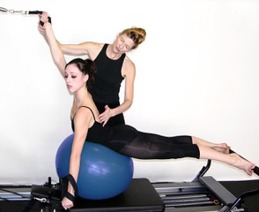 Karen Clippinger is a kinesiologist and dance educator with over 30 years of experience. Her academic teaching included courses such as Body Placement for the Dancer, Functional Anatomy for the Dancer, Dance Science as Related to Teaching Technique, Pilates I and II, and Prevention and Care of Dance Injuries. Karen developed the successful "Option in Dance Science" at California State University Long Beach and a residence for the Dance Science Program at Texas A&M University.
Karen is the author of seminal text Dance Anatomy and Kinesiology which is utilized by dance educators and practitioners worldwide. She has served on numerous editorial boards since 1987, including being an original co-editor in chiefs of the International Journal of Dance Medicine and Science (1996 to 2005).
Pioneer Dance Educator Award: David Leventhal, Director of Dance for PD (Parkinson's Disease), The Mark Morris Dance Group, New York, NY, USA. Nominated by Clare Guss-West.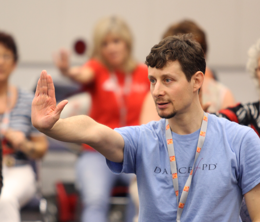 David Leventhal is a teaching artist who has developed a methodology for dance practice for those living with Parkinson's, with a strong rhythmic and artistic approach to teaching. David hypothesized that a professional dancer's training process and could help people with PD manage and even minimize their symptoms.
David utilizes three core components that appear multiple times within the literature: integration of a dance-based focus on walking methods; a strongly rhythmic approach with the knowledge that external rhythmic cueing is particularly effective for people with PD; and, in recognition of a number of studies on self-efficacy, self-esteem and socialization, ensuring that every experience emphasizes artistry, social interaction and quality of movement so that participants think of themselves as dancers, not patients. David's twenty years of experience in this area is underpinned by research and choreographic rigors that exemplifies ways dance itself can be therapeutic without being framed as therapy. There are now multiple Dance for Parkinson's classes in the US and across the world which utilize David's pioneering work to design their programs.