31st Annual Conference Special Interest Group (SIG) Day: A Day for Teachers
24th October 2021 - 8am-5.15pm (MST)
Author: the IADMS Dance Educators' Committee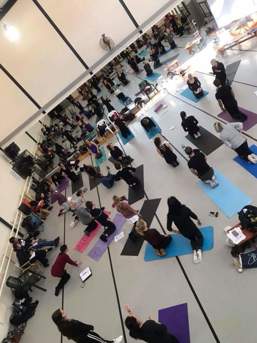 One of our Special Interest Group (SIG) days this year is: A Day for Teachers organised by the IADMS Dance Educators' Committee. 
Join us for the IADMS SIG day for Dance Teachers and Educators to explore and develop your toolbox to enhance the health and wellbeing of you and your students. This year's programme delves into topics from cueing for enhanced focus, to self care and movement explorations of the spine as well as setting boundaries to preserve ourselves and prevent burnout.
All attendees will have access to A Day for Teachers pre-recorded presentations starting on (or maybe even before) Thursday 21st October. On Sunday, October 24th, we then invite you to explore, discuss, debate, and learn more by attending thematic live sessions with presenters. We encourage attendees to view the associated presentations and take the workshop videos before the sessions on Sunday, as these are intended to take participants DEEPER into the pre-recorded material. Attend all sessions or only those that work for your schedule. 
All sessions will be held on the IADMS Virtual Conference Platform and you are free to come and go as you need. 
NOTE: All TIMES LISTED ARE IN MOUNTAIN TIME (MT)
8.00 – 9.00, Hormone Health and Longevity for Dance Teachers 
with Jasmine Challis, Meghan Brown, Nicky Keay, and Janine Bryant 
Come discuss their presentations and research around: 
How can nutrition best support the immune system of the dancer?
Relative energy deficiency in dance: indicators and correlates of low energy availability in female and male dancers
Healthy Aging
9.30 – 10.00, Round Table: Contemporary Issues in Dance Science Education 
Come join the conversation with some of our Dance Educator Award nominees who are some of the most forward thinking and ground-breaking educators internationally.
11.00 – 12.00, Movement Sessions Focusing in on the Spine 
with Lauren Kearns, Sally Donaubauer, Natalie Imrisek, and Megan Richardson
Come discuss their presentations and research around: 
Supporting Spinal Fluidity: a Yoga Practice
Pre-class neuromuscular control exercises for the cervical spine and shoulder
12.15 – 12.45, Cuing for enhanced focus and performance 
with Astrid Sherman and Clare Guss-West 
Come discuss their presentations and research around: 
How to use external focus of attention in dance practice
12.45 – 1.15, Self-care for Teachers, Students, and the total dance environment 
with Anne Burnidge 
Come discuss her presentation and research around: 
Somatic self-care, inclusion and empathy
2.00 – 3.00, Organizing from end to end! 
with Akihiro Kawasaki, Marimba Gold-Watts, Andrea Zujko, and Andre Megerdichian
Come discuss their presentations and research around: 
Rib Bone Connected to the Finger Bone: Corrective Exercises for Fascial Lines of the Upper Body
Movement Analysis & Retraining of the Dancer Course: Clinical Movement Assessment & Retraining of the Lower Quadrant
Dynamic Mobility - from the floor into the air
3.15 – 4.00 Emotional Wellbeing of Teachers and Students 
with Liliana Araújo and Emma Redding + Co-presenters 
Come discuss their presentations and research around: 
The motivational and emotional impact of Covid-19 pandemic: dance students and teachers' experiences of online self-efficacy, stress, burnout, and motivation.
4.15 – 5.15 Identifying and Expressing Personal Boundaries as Dance Teachers 
with Jennifer Stahl and guests
As we emerge from various pandemic states, as we watch Simone Biles' impressive and unexpected choice to remove herself from competition, as we enhance our consciousness of social justice issues, what are we learning about PRESERVING OURSELVES and PREVENTING BURNOUT? What can industry leaders and mental health experts help us understand about the when, why, and how of SETTING BOUNDARIES? Attend this webinar to find out. 
If you have not yet added this SIG day to your registration you can still modify your registration to add it! Log into cvent using your registration confirmation number and select 'Modify Registration'. If you have questions or queries on registering or joining the conference please contact: conference@iadms.org