Announcing the 2021 Dance Educator Award Winner
Author: the IADMS Dance Educators' Committee
During the closing ceremonies of our 31st Annual Conference, the IADMS Dance Educators' Committee were delighted to announce that the 2021 Dance Educator Award winner is Edel Quin, Programme Leader BSc and MSci Dance Science, Senior Lecturer, and Dance Admissions Tutor for Dance Science, University of Chichester, UK. 
Edel was presented with her award by the cast of Riverdance, on October 23 2021, during their 25th Anniversary UK tour. Watch the full presentation video below.
Edel has over a decade of experience as a dance educator, prior to which she was a professional Irish dancer with Riverdance, before continuing her training in contemporary dance and dance science. Over the course of her teaching career to date, Edel has taught on undergraduate and postgraduate courses as well as leading dance science programmes at Trinity Laban Conservatoire of Music and Dance and the University of Chichester. 
Edel's contribution to dance science research and education includes work at the cross-sections of teaching and somatic practice, as well as exploring the relationships between ecological dynamic approaches to skill acquisition and motor learning as a potential theoretical framework for informing effective modes of instruction and feedback in dance. She is the co-author of Safe Dance Practice: An Applied Dance Science Perspective (2015) and is a registered provider with Safe in Dance International. Edel is also currently working on a collaborative project with Riverdance; monitoring live heart rate responses of dancers during performance and shared initial data from this project as part of Denver Live. It was during this data collection that Edel was surprised with the presentation of the Dance Educators Award, alongside fellow researcher and colleague Sarah Needham-Beck and members of the Riverdance cast and crew. 
On receiving the award Edel said: "I am truly honoured to receive this award from IADMS. I am passionate about research-informed dance education, so to be recognised in this way is very special. I want to acknowledge all my fellow dance educators, who work tirelessly for the good of each and every dancer they encounter; many of whom I am lucky to call friends and mentors. I also want to thank all of the dance and dance science students that have crossed my path over the years; I continue to learn from each one of them. Lastly, I want to thank the IADMS Dance Educators' Committee Chair and Members for all of the work that they do, on a voluntary basis, in disseminating and raising awareness of research-informed best practice, making a significant contribution to fulfilling one of the key parts of the IADMS mission".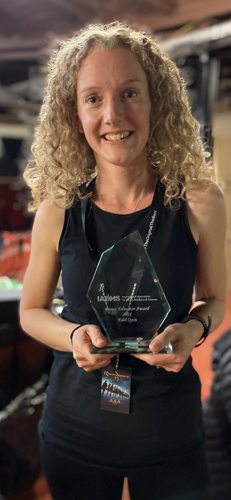 Photo credit: Marcus Smith