Reflections from the 2021 IADMS Strategic Planning Process
In 2021, IADMS embarked on a strategic planning process to refine and further define the Association's direction, and layout the long-term goals and short-term actions to accomplish such a feat. To ensure we heard voices from various professionals in the field, a call for a Strategic Planning Workgroup was sent out to the community, including non-members and members of the Association. In the end, the workgroup included the IADMS Board of Directors, Operational Committee Chairs, staff, and 12 additional members selected through the application process.
The entire process was facilitated by Verhanika Willhelm, of Willhelm Consulting. The pinnacle of the workgroup involved a weekend-long retreat, after which the plan was composed and approved by the IADMS Board of Directors in February 2022. The final strategic plan focuses on four overarching priorities: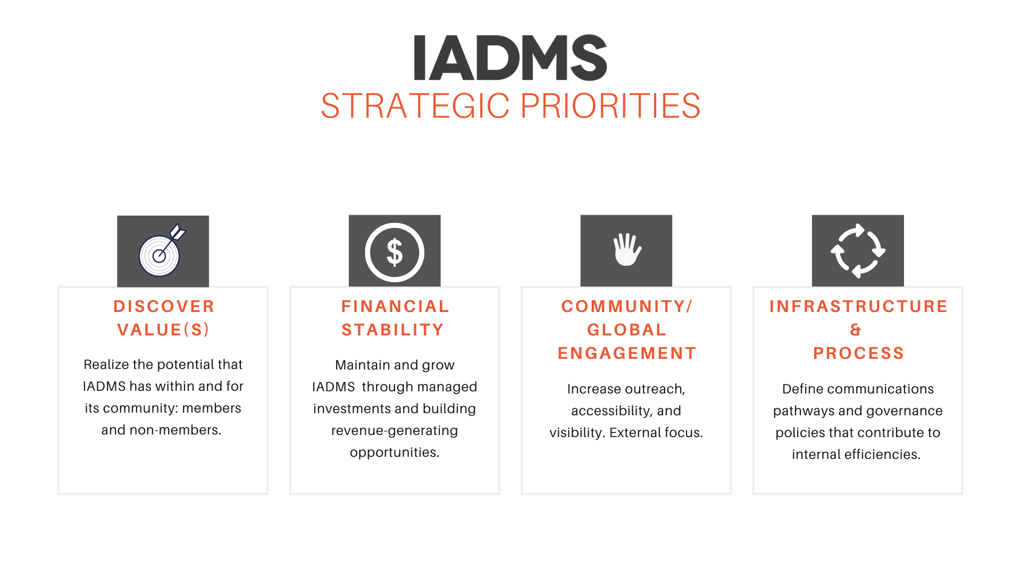 Under each of these priorities are actionable goals to be completed in the next three years, with emphasis on addressing barriers of access into and within the Association and the community at-large. 
Three of the IADMS Strategic Planning Workgroup members, Joe Bowie (JB), Andrea Kozai (AK), and Gregory Youdan (GY), offered us their perspective on the process and end-result of the new IADMS 3-Year Strategic Plan.   
1) Why did you apply to be on the workgroup?
JB: Derrick Brown, Chair of both the Research Committee and the Intersectionality Task Force, mentioned the workgroup to me as a means to contribute more diverse voices and points of view to the process of creating and crafting a new mission and vision statement for IADMS. So, I hoped that by applying, I would add my voice to those of the many brilliant educators, researchers, and medical professionals who would participate in this process. And even though I worried about my challenges with "impostor syndrome" in IADMS, I also knew how much I would love to bring my critical lens to this process-driven collaboration.  
AK: I had been involved in IADMS committee work for over a decade, but I had recently rotated off as Chair of the Development Committee and was looking for a way to stay involved. As a part of my prior service, I had been fortunate enough to be involved in two prior strategic planning processes, and I knew I could bring a historical perspective while keeping an eye toward the future.
GY: Peter Lewton-Brain, former president of IADMS recommended that I apply to join the workshop. Taking his recommendation into account, I thought about what a great opportunity this was to share my voice with IADMS. As a member, I was interested in being more actively involved and this provided an opportunity to be in discussion with others about the future for IADMS. I wanted to make sure dance for health was being represented in the new strategic plan. 
2) What topics came out of the process?
JB: The topics which continued to surface and resurface centered on making IADMS a more diverse, inclusive, accessible, and truly global organization. The workgroup was the perfect opportunity to interrogate our intentions and construct solutions. Additionally, the process offered space for us to speak honestly about transparency within the organization, and how we might encourage better communication among our own committees and actively move toward "de-siloing."
AK: I was impressed by the very earnest, open discussion of IADMS' values and priorities. Discussions of inclusion and accessibility were front and center, and a lot of work went into examining the structures within the organization that could be optimized to achieve our goals. Many of the discussions I was a part of were around topics of how the organization needs to be set up structurally to allow the important work of the organization to be realized.
GY: Through the process we were able to craft a new mission and visioning statement for IADMS. Common themes in our discussions centered around making IADMS more inclusive, increasing accessibility and increasing diversity within our members. The workgroup was interested in being welcoming and providing greater access to our international organization. Another common theme included transparency of the organization, better communication within the organization and to its members. 
3) What aspects of the final plan popped out at each of you?
JB: What popped out for me were the "actionables" and the "tangibles" of the strategic plan. I often worry that I won't see follow-through, but seeing the tangible goals laid out and the actions IADMS will take over the next three years to achieve these goals gives me faith in the organization, overall. 
AK: True to my Development Committee roots, the goal to conduct a multi-million-dollar endowment fundraising campaign really jumped out at me when I read the final plan. I see this as a commitment by the Board and the staff to ensure IADMS has the financial resources to support all the other goals in the plan.
GY: What jumped out the most for me was the earnest effort to reduce barriers, increase accessibility and global inclusion. What I appreciated is that the strategic plan not only laid out goals but actions for IADMS to take over the next three years to ensure that it is reaching these goals. I appreciated the visioning with actionable steps.   
4) What did you get out of the process?
JB: Being a member of the workgroup afforded me the opportunity to meet and more deeply connect with other members of IADMS. The entire process was illuminating!
AK: Long before we started discussions about the mission statement or any particular strategic goals, we all took part in trainings conducted by Verhanika Wilhelm (the consultant who led us through the process). I found these to be invaluable in preparing me to do the work of strategic planning, but they were also transferable to my everyday work.
GY: I found being in communication with other members and hearing the varied and diverse views of those on the workgroup to be of value. It was a true learning experience and a community effort by all. 
5) What parts of the process would you recommend?
JB: The parts of the process I would recommend are those which increased and enhanced communication among the membership and committees within IADMS. The workgroup became a great tool for creating more effective and equitable discussions, as well. 
AK: While the pandemic certainly made many aspects of business more challenging, I thought this process really benefited from being conducted virtually. We were able to meet several times over several months and had members from all across the globe. We put technology to good use and made sure the burden of attending meetings at less-than-ideal times was spread out equally by conducting meetings at different times of day/night each time. Having such a broad, diverse group of people was lovely as well; I thought each of us were able to challenge our way of thinking in a safe and supportive environment.
GY: My answer to this is the entire process. It was really valuable to be in community and open and honest discussion with the board and other members. Verhanika, our consultant, was a steward and provided tools to help guide discussions and visioning. If you haven't been a part of a strategic planning process this workgroup provides a great way to gain experience while being supported. 
The IADMS Strategic Planning has been supported in part by