Meet our Operational Committees: Promotion Committee
In the next few blog posts we will be introducing our Operational Committees. Operational Committees work on the short and long-term goals of IADMS, driven by the strategic plan and vision of the organization. Each committee has a specific purpose and works closely with the Board of Directors and IADMS staff to accomplish their goals.
We have ten committees which include the following:
Dance Educators
Dance for Health
Development
Physician
Professional Development
Program
Promotion
Publications
Research
Student
We asked each of our committees to share information about what their committee is about and what work they get up to. Below you will see responses from the Promotion Committee:
What work within IADMS is the Promotion Committee responsible for?
The Promotion Committee contributes to the international profile of IADMS by producing and disseminating marketing materials on behalf of the organization. The committee manages IADMS's social media platforms, creates announcements for meetings and events, and produces the IADMS blog.
What is the mission/vision statement for the Promotion Committee?
To present the Association externally as the pre-eminent resource for dance medicine and science. This includes efforts to extend the reach and recognition of all IADMS initiatives and activities.
To disseminate information in a clear and timely manner on behalf of the Association to the membership and the wider community of parties (individuals and organizations) with a personal and/or professional interest in dance medicine and science, dancer health and wellness, and/or dance for health
Who are your current members?
Co-Chairs: Sarah Needham-Beck, PhD, MSc and Mandi Moore, MFA
Sam Beckman, MFA
Maria Haralambis, PhD, MS, BS
Stacey (Anastasia) Kipouridis, MPHTY, BSc
Emma Sng, BS
Leanne Steel, MSc
What are some of the recent projects your committee has been working on?
We have recently been working with IADMS Staff to create a clearer brand identity and voice for IADMS, which we are excited to start sharing with you.
Our regular committee work includes managing, and designing and posting content for our IADMS social media platforms:
Facebook  - including 4 private networking groups: Science for Dance Educators, Dance Medicine Professionals, IADMS Students, Global Dance for Health Community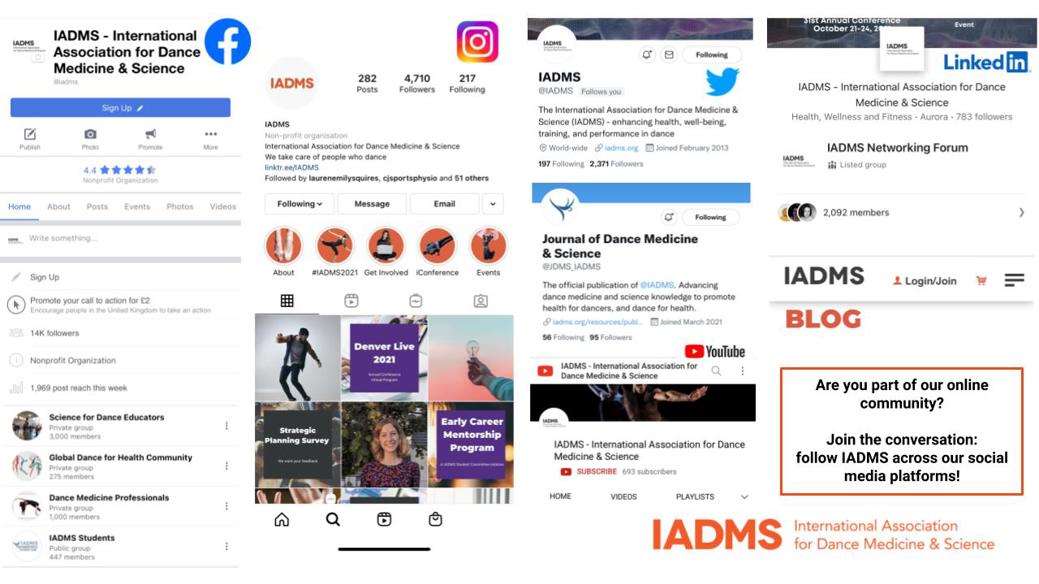 Read more about the Promotion Committee in our Committee Charter: https://iadms.org/media/6520/iadms-promotion-committee-charter.pdf