Student to Professional Networking Session - Key Takeaways
Author: the IADMS Student Committee
In May, students within IADMS had the opportunity to communicate with reputable dance medicine and science professionals about their pressing questions regarding graduate school. Throughout the session, students heard from six professionals from various backgrounds, both research and practice-based, including:
Janine Bryant MA, BFA, PhD (in progress), SFHEA: Lecturer and Certified Health and Wellness Coach at Boston Conservatory at Berklee, The University of Wolverhampton, and Optavia International 
Lauren Elson MD: Sports Medicine Physician and Director of Dance Medicine at Spaulding Rehabilitation Hospital and Department of Physical Medicine and Rehabilitation at Harvard Medical School
Danielle N. Jarvis PhD, ATC: Associate Professor, Department of Kinesiology, California State University, Northridge
Catherine Haber MSc, MAS: Lecturer & Researcher at the Institute of Sport Science, University of Bern and Trinity Laban Conservatoire of Music and Dance
Gregory Youdan Jr. MA, MS: Lecturer at CUNY Lehman College
Andrea Zujko PT, DPT, OCS, COMT: Clinic Manager and Full-time Physical Therapist at Westside Dance PT, Adjunct Faculty and Part-time Physical Therapist at NYU Tisch School of Arts Dance Department, Founder of Dance Medicine Education Initiative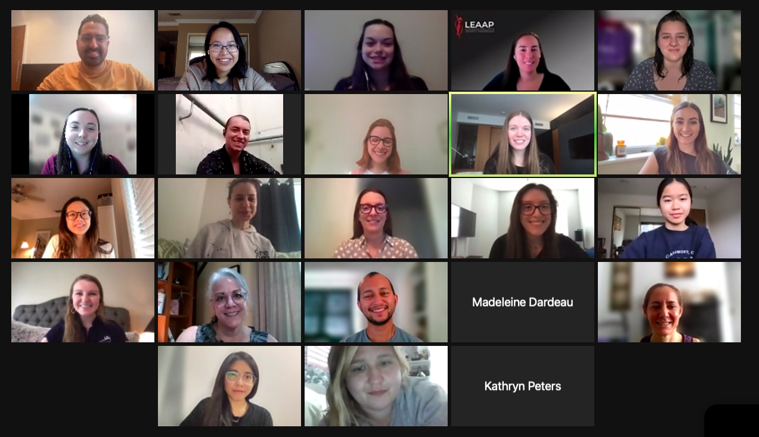 Overall, the discussions during the session offered students a variety of answers to their graduate school-related questions. Professionals discussed their backgrounds and how they became involved in dance medicine and science, their considerations for graduate school applications and programs, dance medicine degrees versus other types of programs, and much more! A few themes emerged and we have taken the advice and summarized a few of these main points below. 
Networking
The number one piece of advice our professionals had for students was: network, network, network! Networking is essential both in applying and while attending graduate school. During the application process, reaching out to potential mentors can help them learn your name and interests, determine if the degree or program aligns with your own goals, and open potential opportunities not previously considered. For instance, potential mentors may know of available funding sources or other mentors/programs with openings. As a student, you are not expected to know everything, so talking to potential mentors also allows you to ask questions and discuss what types of skills you would like to learn more about or experiences you would like to have. Once in graduate school, continued networking can be important when applying for jobs, finding observation and internship opportunities, and continued mentorship. Mentors within your program are a valuable tool as they have built a network of colleagues throughout their career that they can connect you with. Finding mentors outside of your own program can also help expand your knowledge and build your own network of colleagues for the future.
There are many opportunities to network through IADMS such as reaching out to current members and/or applying to the IADMS Early Career Mentorship Program (find more information here).
Financial Awareness
Regardless of the field of study, attending graduate school can be a huge financial commitment for many individuals. Therefore, applicants need to gain financial awareness to match their passions with their financial abilities. Factors such as tuition costs, living expenses, and potential future salaries are extremely important to consider when choosing the right graduate program. Fortunately, graduate degrees are offered by numerous universities in locations all over the world, leading to a wide range of financial obligations. Reaching out to potential schools, programs, or mentors can help answer questions about funding opportunities such as grants, scholarships, and graduate assistantships. Considering the return on investment and developing financial awareness are the keys to mitigating future student loan debt and providing applicants the tools necessary to successfully navigate their next stage in life. 
Long Term Goals
Applying to and attending graduate school requires numerous considerations, including thinking about what your long-term goals are and how a graduate degree might support these. Those interested in research/academic positions are usually required to attend a graduate program, as this is where essential research skills are learned. However, not everyone needs a graduate degree, so assessing what credentials or skills are needed for future careers can help determine the necessity and benefits of graduate school. Evaluating your goals can also help you decide what type of program (dance science-specific versus other related areas) and which programs you are interested in. Consider if the program allows a dance medicine rotation or specialty, how much choice you have in your own research topics, and what type of expertise you will gain from the experience. Although dance-specific programs enable you to work with dancers, more general degree programs can provide unique perspectives to acquire knowledge outside the field that can later be applied to help further develop the area of dance medicine and science. Overall, consider what value the degree will have for your professional career goals and interests. 
Conclusions
The session was a success in providing students with a space to speak with professionals across different specialties associated with dance medicine. Students learned how experts have made it to where they are and received advice on things to consider in their own career paths. From the discussions, it is clear there are many career paths and opportunities within the field of dance medicine and science. Consider your own personal goals and circumstances, and talk with others who have pursued this area to find what works best for you!
To stay up to date with future events, join IADMS and review our calendar for upcoming events!