Dance for Health
Dance for Health provides holistic, evidence-based activities for the individual to manage and adapt to physical, mental, and social health challenges.
In Dance for Health sessions, trained teaching artists engage people as dancers, rather than patients, in joyful, interactive, artistic practice. 
-IADMS Definition 2021
Global Advocacy, Benchmarking, & Research
In 2019 the World Health Organisation (WHO) published a report representing the most comprehensive evidence review of arts and health to date, referencing over 900 publications, including 200 reviews covering over 3000 further studies. The evidence shows a robust impact of the arts on both mental and physical health and found that the arts can help in providing multisectoral, holistic, and integrated people-centered care, addressing complex challenges for which there are no current healthcare solutions.
At IADMS, we promote innovation in research and best practice, bringing together the healthcare and the dance sectors to facilitate the implementation of dance-based practices within evolving health and social structures. We are pursuing an international consensus on core benchmarks that would allow dance-based programs to be implemented in a health care context, be covered by insurance, or be prescribed by a health professional. Overall, we advocate for dance as a life-long partner for health and well-being, building collaborations among multidisciplinary stakeholders to influence national and international dance for health policy.
Global Advocacy - A Call for Champions from Across the Disciplines. IADMS Dance for Health Champions are members either working in the field of Dance for Health, following Dance for Health developments out of personal or professional interest or new to the field of Dance for Health and curious to find out more. These supporters and advocates volunteer time, passion, and expertise to support the initiatives of the IADMS Dance for Health Committee. Together we cultivate and magnify internal advocacy, and organize activities to integrate IADMS health care and Dance for Health members. Champions take on the role of bridges to advance and diffuse knowledge, research, and best practice in the field of Dance for Health.
If you would like to become a Dance for Health Champion, please email danceforhealth@iadms.org.
See our infographic on Dance for Health Research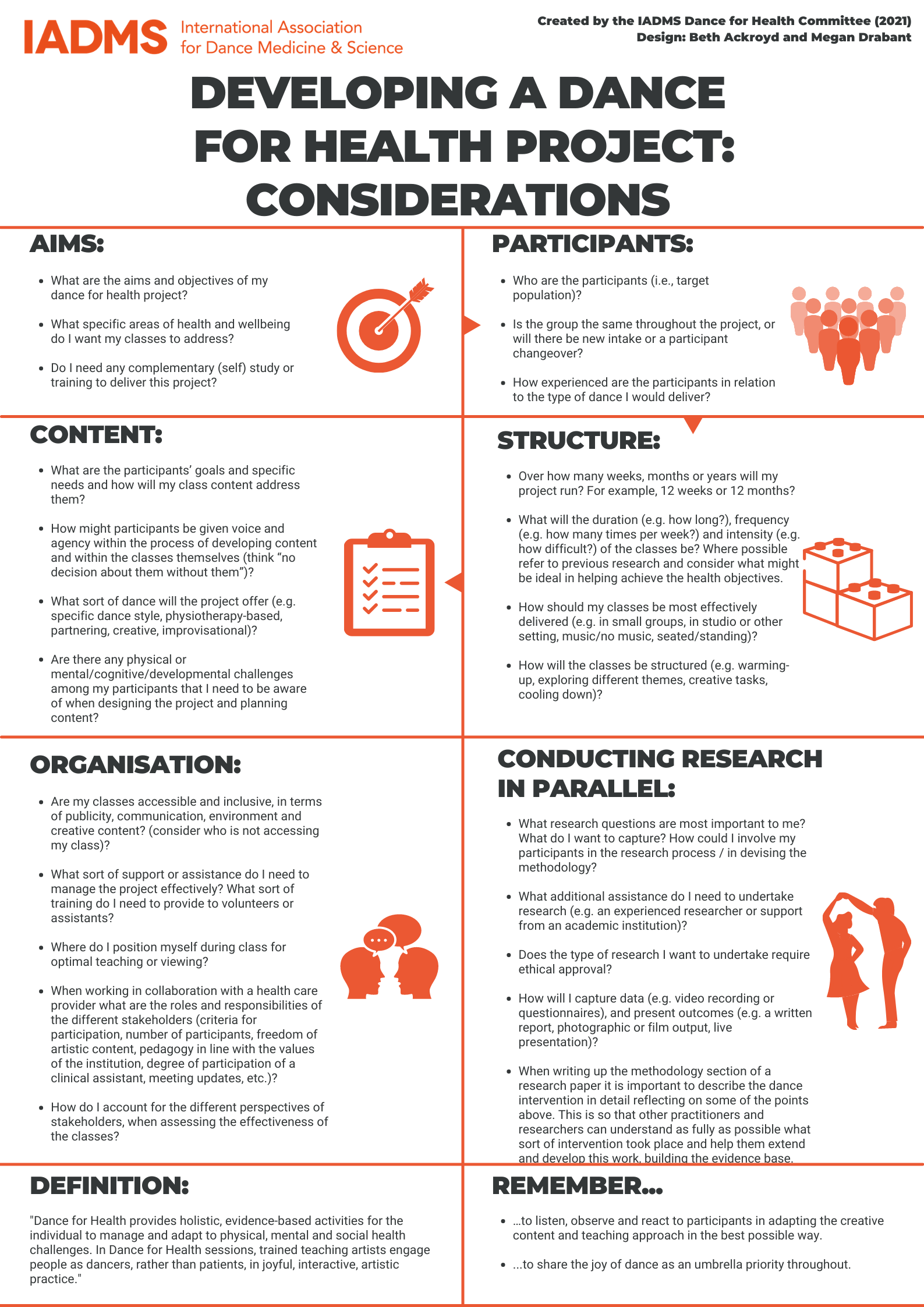 Dance for Health Webinars
Part of the COVID response IADMS series Helping Dancers Help Themselves, the IADMS Dance Educators Committee, and the Dance for Health Committee produced a webinar to address Dance for Health Interventions During a Global Pandemic.
Dance for health educators brings the power of dance to a wide range of populations, all of whom face unique challenges in isolation. What's more, many of these students are particularly vulnerable to COVID-19, so while studios around the world cautiously begin to reopen, it is likely that many dance for health teachers will continue to work with their students in a virtual format. In order to support these important educators, this panel invites members of the IADMS Dance for Health Committee to discuss their work during this global pandemic and consider the future of their field.
Presenter(s): Ellie Kusner, MSc, Clare Guss-West, MA, Emily Jenkins, MA, David Leventhal, BA, and Åsa N. Åström, BA
Follow Us on Facebook!
Join our Global Dance for Health Community Facebook Group